How Does OpenSea Make Money? (This Will SURPRISE You)
OpenSea makes money by charging fees. OpenSea charges a flat fee of 2.5% of the sale price.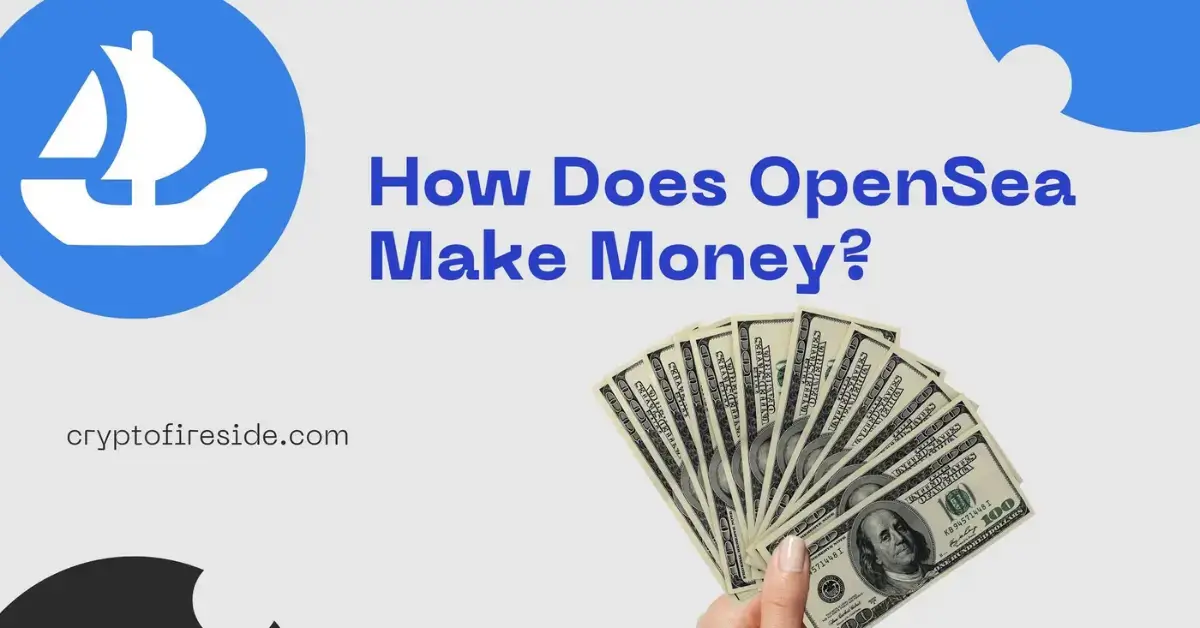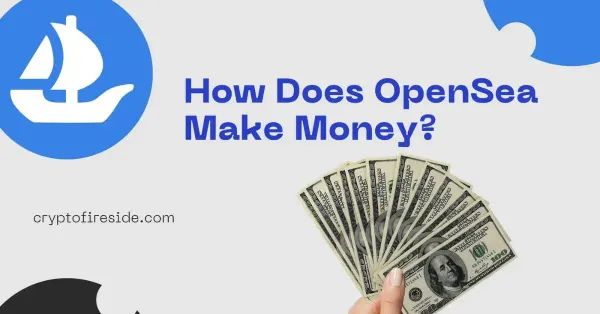 OpenSea has one of the most straightforward business models that exist. They charge a simple flat fee of 2.5%, which is taken from the total sale price of the NFT.
They explain this simple fee structure here in their support and help center.
OpenSea's model is simple — we receive 2.5% of the sale price. That's it. Users and partners can create NFTs for free at any time.

At 2.5% this means if you sold an NFT through OpenSea for $100, they would take a cut of $2.50 or if you sold an NFT for $1000 they would get $25.
While there are no listing fees on OpenSea, there are however first-time Ethereum fees and of course gas fees. Gas fees have seen a few different changes on the OpenSea platform since it was launched and they have worked pretty hard at coming up with solutions to reduce or completely eradicate these fees for their users.
👉
Importantly: gas fees are not something that OpenSea makes money from. Learn more about gas fees in crypto
here
. 
Who pays the gas fees on OpenSea and when?
The current gas fee structure looks like this: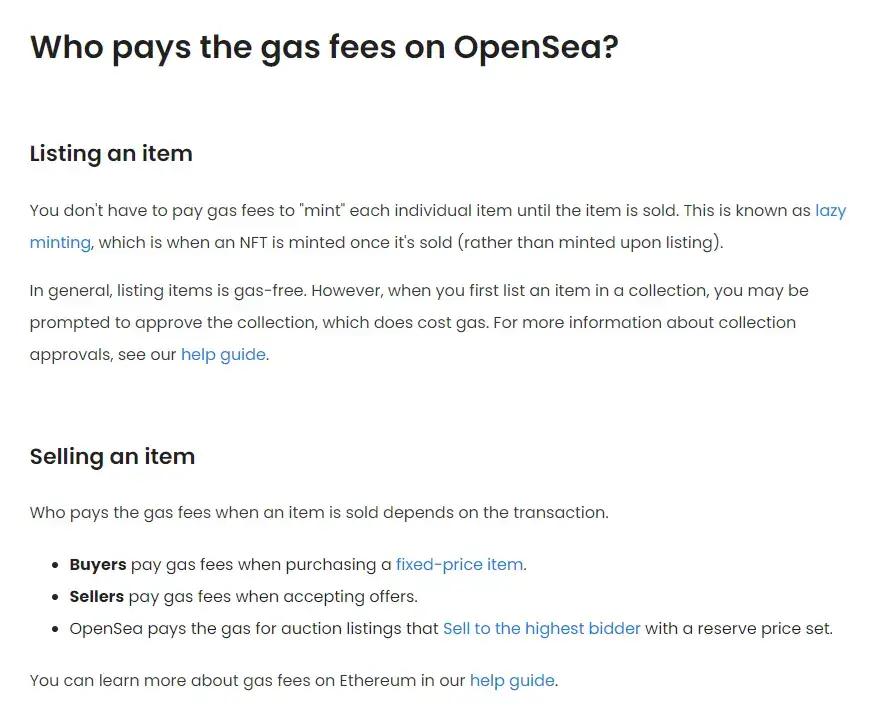 How Else Does Opensea Make Money?
OpenSea Also Makes Money Through Ventures
Outside the fee model of monetization, OpenSea also has a venture side to its business that they call OpenSea Ventures.
The NFT marketplace raised $300 million at a $13.3 billion valuation in January of 2022 in order to pursue and fund this new venture side of the business.
OpenSea Ventures was officially launched in February of 2022 and communicated via this blog post. OpenSea said in its blog post
OpenSea Ventures will help the most promising developers and creators realize their visions to grow Web3 through NFTs, decentralized systems, and other novel blockchain uses. OpenSea Ventures will invest across the web3 ecosystem but focus investments across four main themes:
1- The continued shift to a multichain world, both for fungible and non-fungible items. 2- Creating and supporting NFT-related protocols. 3- Social and gaming projects serving as distribution mechanisms for crypto and NFT elements. 4- The emergence of NFT aggregators and analytics supporting activity on OpenSea and other NFT marketplace platforms.
If you want to know how OpenSea Ventures plans on monetizing, take a look at the screenshot below. It tells you everything that you need to know.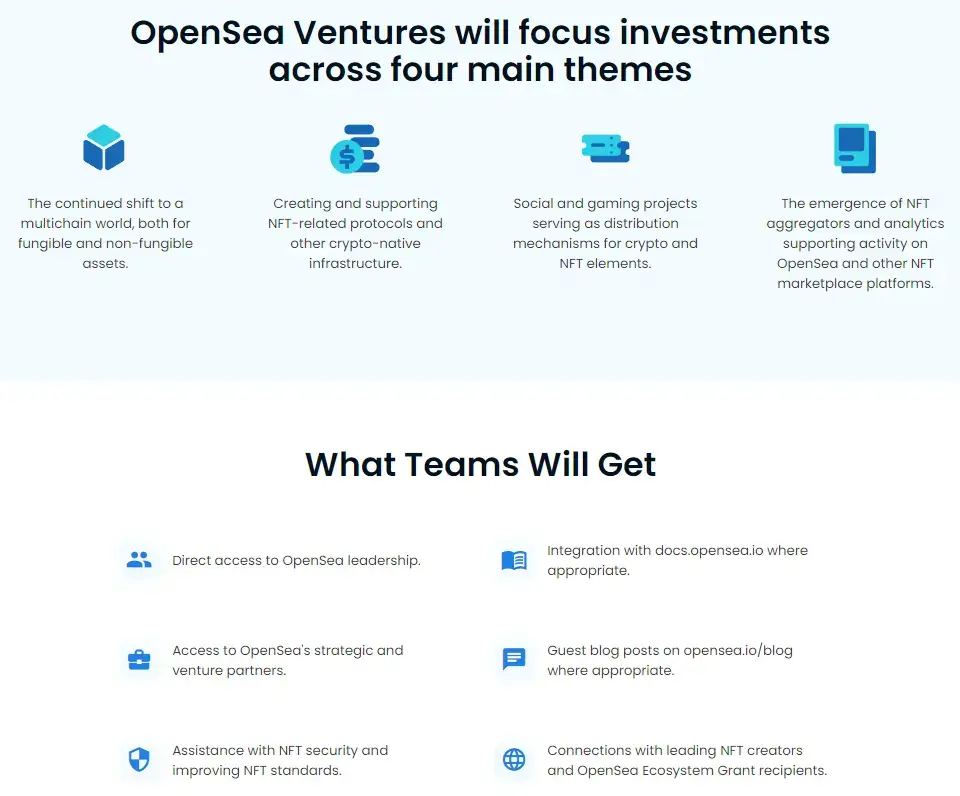 What I gauge from the above is that; OpenSea is wanting to make money from virtually all aspects of the NFT and Web3 space. Nothing is off the table.
Being such a new part of the OpenSea business, it's not clear yet how the venture side of their business is going but we do know that currently, OpenSea Ventures has made 4 separate investments, the latest being an investment into Socket as part of a pre-seed phase on July 7, 2022.
How Much Money Does OpenSea Make?
If we assume that analytics data provided by Dune Analytics Dashboards are correct, we can see that OpenSea monthly fees from August 2021 until August 2021 accrued $2,316,064 in Ethereum fees only with an average monthly take of $193,005 in Ethereum fees. This does not take into account fees from Solana, Polygon, and others.
The chart below shows us that OpenSea's total USD volume since Jun 2018 is $39.8 billion. If this is accurate, it means OpenSea has banked a crispy $995 million!

OpenSea was originally valued at $13 billion but just from spending a few minutes reading NFT news or browsing charts on Dune, it's clear that the NFT market that OpenSea dominates crashed just as fast as it rocketed to the moon.
Check out the charts below. Tell me this doesn't look like an insane rollercoaster ride!

No one knows whether this money-rollercoaster will swing back up for OpenSea or not but one thing is for sure, the platform is setting itself up to make even more money regardless of what NFT sales on its platform do or don't do.
Want to Keep Reading?
Want to know how you can support Crypto Fireside?
Sign up below. It's free, it's easy, and it allows you to comment and join the discussion 🔥!