GameStop NFT Marketplace Review
GameStop NFT Marketplace saw instant success upon launching, but does it live up to user expectations? Read and find out.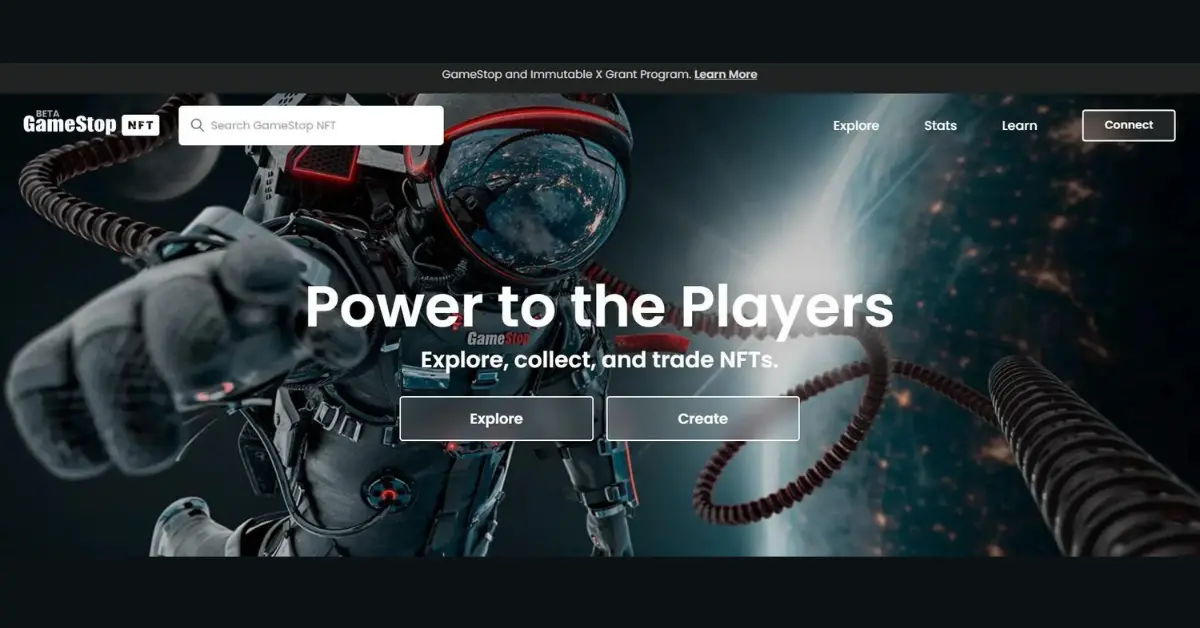 Controversies, the ups, being ruled out entirely by analysts, making a comeback, and retaking a slump all make up the backstory of the world's famous gaming accessories shop, GameStop.
What seems to be a rollercoaster of events; stock prices plummeting, fans picking the company's name out of the dust, and finally realizing blockchain technology as a bonus to gaming, has given GameStop a spot at the center stage of 2022.
GameStop's NFT marketplace launched with instant success, recording over 1,831 ETH (around $2.7 million) in trading volume and earning $45,000 in transaction fees on its first day. This figure means that the platform surpassed Coinbase's $74K NFT marketplace sales volume on its first day.
But despite the seemingly instant success amidst a dwindling market, does GameStop NFT Marketplace live up to user expectations? Here's an in-depth review of the newest NFT marketplace in the crypto space.
What is GameStop NFT Marketplace?
GameStop NFT Marketplace is a decentralized platform that allows users to create, buy and sell non-fungible tokens (NFTs).
Based in Grapevine, Texas, GameStop is America's leading consumer electronics, video game, and gaming merchandise retailer. The company deals in a wide range of gaming systems, accessories, and consoles, including PlayStations, Xbox, and Nintendo games, and also accepts trade-ins.
Following an increase in the sale of digital video games, a trend that saw even Sony launch a digital-only PlayStation 5, GameStop decided to venture into the crypto space and is currently counting on it to enhance revenue. 2021 saw the company record significant losses (a net loss of $147.5 million in Q4 2021) and even lay off some workers.
In February 2022, GameStop announced plans to open its NFT marketplace to tap into the growing sector and consequently expand the company's revenue. The marketplace finally graced the NFT space on 11th July in public Beta.
Participants on the GameStop NFT Marketplace can buy, sell or create digital art, collectibles, photography, sports memorabilia, and other creations. The creation of NFTs on the marketplace is currently open to select creators only. Persons interested in becoming creators on the platform can apply to become NFT creators on the market. The NFT-based trading platform is currently looking to broaden user participation and therefore looks to bring on board new NFT creators.
GameStop NFT Marketplace has 345 listed collections with more than 57,000 NFTs. Its top-selling NFT collection is Metaboy-a set of 10,000 animated GIFs.
Less than a month into its existence, GameStop NFT marketplace has recorded over $7.2 million in sales with a transaction fee (royalty rate) of 2.25% per sale, amounting to over $100,000 in revenue. The GameStop NFT Marketplace has over 54,000 distinct NFTs in about 250 collections.
How Does GameStop NFT Marketplace Work
GameStop NFT marketplace is developed on the Loopring network-a Layer 2 (L2) scaling solution on the Ethereum blockchain. Thanks to Loopring, the marketplace offers high transaction speed with low gas fees. Ethereum transaction fees have gotten out of hand lately due to increased network congestion causing many users to endure additional costs.
Loopring can process thousands of transactions per second on the GameStop NFT marketplace faster with cost-effective gas fees. Think of Loopring as a bus that batches all these transactions on the marketplace into one big block and sends it over to Ethereum. This makes the transaction faster and cheaper.
The NFT Marketplace is still in its early beta stages and currently supports Loopring only. It doesn't support Ethereum natively, which means you can't trade NFTs that are on Ethereum. Instead, you can only buy, sell or trade NFTs minted on Loopring. As such, the marketplace doesn't support all the high-value blue chip NFTs built on Ethereum. Considering that most NFTs are on the Ethereum blockchain, this is a massive limitation of the GameStop NFT marketplace.
In addition to Loopring, the marketplace has partnered with Immutable X to make available more gaming NFTs on the marketplace. Immutable X is another Ethereum layer that is quite similar to Loopring but mostly supports crypto gaming NFTs, therefore is an ideal partner for the company. GameStop with Immutable X is currently offering 100 million dollars grant money for builders and creators to build things in crypto and to use the marketplace.
GameStop NFT Marketplace Layout
GameStop NFT Marketplace boasts a user-friendly UI/UX design. The layout is high quality and easy to navigate. The homepage lets you access the marketplace, with featured creators ranking top of the main marketplace page. The page is dominated by a white background with a Black accent color. On the top page are two options to explore the NFT marketplace and mint (create) quickly NFTs, but the latter option is for chosen users only.
The page is also integrated with a stats page which is pretty straightforward and informative. The stat page ranks the listed NFTs in terms of trade volume. GameStop's marketplace is still in Beta and therefore lacks some features you could see in other NFT marketplaces such as OpenSea. For instance, it lacks a feature where users can view the trading data and sales data of NFT collections.
Marketplace Features
While still at the Beta stage, GameStop NFT Marketplaces encompasses a plethora of features that set it to become one of the best NFT marketplaces in the crypto space. Some notable features on the platform include:
Services
GameStop NFT Marketplace facilitates the purchase, sale, creation (minting), and collection of unique collectibles, artwork, and more from communities, creators, and global brands across the globe. These NFTs can be traded and transferred between collectors.
Users can browse a vast collection of NFTs using different search and filter options based on category, price, or collection. Users can also apply to be featured creators on the platform, mint their own NFTs, set creator fees, and earn revenue every time their NFT is sold.
Blockchain
GameStop NFT marketplace is developed on the Loopring network-a Layer 2(L2) scaling solution on the Ethereum blockchain. The marketplace also supports Immutable L2 to facilitate the integration of more gaming NFTs in the marketplace. The platform is a self-custodial marketplace meaning that users are the real owners of their digital assets.
Supported Wallets
Currently, the GameStop NFT marketplace supports three wallets only. These are:
Wallet Connect
GameStop Wallet
MetaMask
Since the GameStop wallet is still in Beta, MetaMask is highly recommended when using the marketplace since it's highly reputable.
Payments Methods
GameStop currently supports payments in cryptocurrency, specifically Ethereum (ETH). To make the payment, you first need to move ETH from the Ethereum network to GameStop NFT Loopring Layer 2. The platform doesn't support payment in fiat currencies like the U.S. dollar.
Fees
GameStop NFT Marketplace charges 2.5% for every transaction on the platform. The fee is imposed on the NFT's sale price, meaning buyers don't have to pay anything when buying their favorite NFTs.
Creators on the marketplace are flexible to set creator fees as they deem suitable. Then they'll receive the creator fee on every sale of that particular NFT. Besides, they are free to adjust the fee anytime.
NFTs That You Can Buy on GameStop NFT Marketplace
GameStop NFT Marketplace has over 250 NFT collections with nearly 55,000 distinct NFTs, some of which are available in multiple limited editions. Some NFTs that you can buy on GameStop include:
Collectibles
Art
TV Series
Music
Trading Cards
Sports
Photography
Utility
Sticker
Cards
The NFT collections are still growing, and you should expect additional listings in the coming months.
Getting Started on GameStop NFT Marketplace
Selling and buying NFTs on GameStop NFT Marketplace is relatively straightforward and doesn't require any crypto experience. You only need to have a funded ETH wallet supported by the platform.
Here's how you can buy and sell NFTs on the GameStop marketplace:
Buying NFTs of GameStop NFT Marketplace
You'll need a crypto wallet to buy and trade NFTs on GameStop NFT. As mentioned earlier, the platform supports three wallets, i.e., GameStop Wallet, MetaMask, and WalletConnect. Create your most preferred wallet and fund it with ETH. The platform currently supports cryptocurrency payments only; therefore, you must have ETH to proceed with the trade.
Launch GameStop NFT Marketplace on your computer browser. Click the "Connect" tab to link your preferred crypto wallet on the platform.
Move ETH from the Ethereum network to GameStop NFT Loopring Layer 2. Note that, when buying NFTs on the marketplace, only ETH that has been deposited to Layer 2 will be accessible in your actual balance.
Explore the marketplace sorting the NFTs by genre, creator, listings, and more. You can click on the "Stats" page to find a collection's total sales volume, floor volume, and changes in the total price.
If you find a worthy NFT, select it and hit "Buy Now." The platform will indicate the total amount required for the payment and fees. Finally, click Checkout to start the transaction.
Once you hit Checkout, your crypto wallet will bring a window outlining the gas fees for completing the transaction. Confirm the transaction to complete the purchase.
How to Sell NFTs on GameStop
To sell NFTs on the GameStop NFT marketplace, proceed as below.
Just like buying NFTs, connect your preferred supported crypto wallet to the platform
Next, head on to your profile to view your owned assets.
Select the NFT you want to sell.
Fill out your desired price, sales method, and other details. Once done, click Post Your Listing to make it available on the marketplace. Wait for an interested buyer to contact you.
Is GameStop NFT Worth It?
GameStop is a leader in the gaming space with lots of rave reviews. The company recently entered the crypto space with the launch of a crypto wallet and the GameStop NFT marketplace. While the marketplace is still in the Beta stage, it launched with great success despite the significant drop in NFT sales. The platform has its fair share of pros and cons as below:
Pros of GameStop NFT
A large variety of NFTs in multiple categories
Great security measures
No account minimum to use the platform-open to all.
No buyer fees
Easy to use
Relatively fast and cheap transaction fees
Non-custodial marketplace
Cons
It supports only ETH payments and Doesn't support fiat currencies
Since it's built on Loopring, you can only buy, sell or trade NFTs minted on Loopring. Therefore, you can't deal with most high-value blue chip NFTs as they are built on Ethereum.
It doesn't offer bluechip NFT collections.
Interested NFT creators must apply to be featured NFT creators.
Low royalty fees
Closing Words
Less than a month into its existence, the GameStop NFT marketplace has achieved great success in terms of sales volume despite the dwindling NFT sales. The platform opened to $7.2 million in weekly sales, doubling its competitor's- Coinbase NFT marketplace all-time NFT sales. The marketplace stands out with its intuitive user interface and relatively fast transaction speed, thanks to the Loopring L2 network.
The 2.25% fee on all sale transactions is competitive compared to other NFT marketplaces. However, the [platform only supports ETH payments and limits the number of wallets connected on the marketplace to only three. Overall, it's a great NFT marketplace, especially if you're an avid gamer interested in trading and collecting a wide range of NFT collections.
Want to know how you can support Crypto Fireside?
Sign up below. It's free and easy 🔥.