NFT Companies | The Most Ultimate List Ever
The following is not just a list of companies.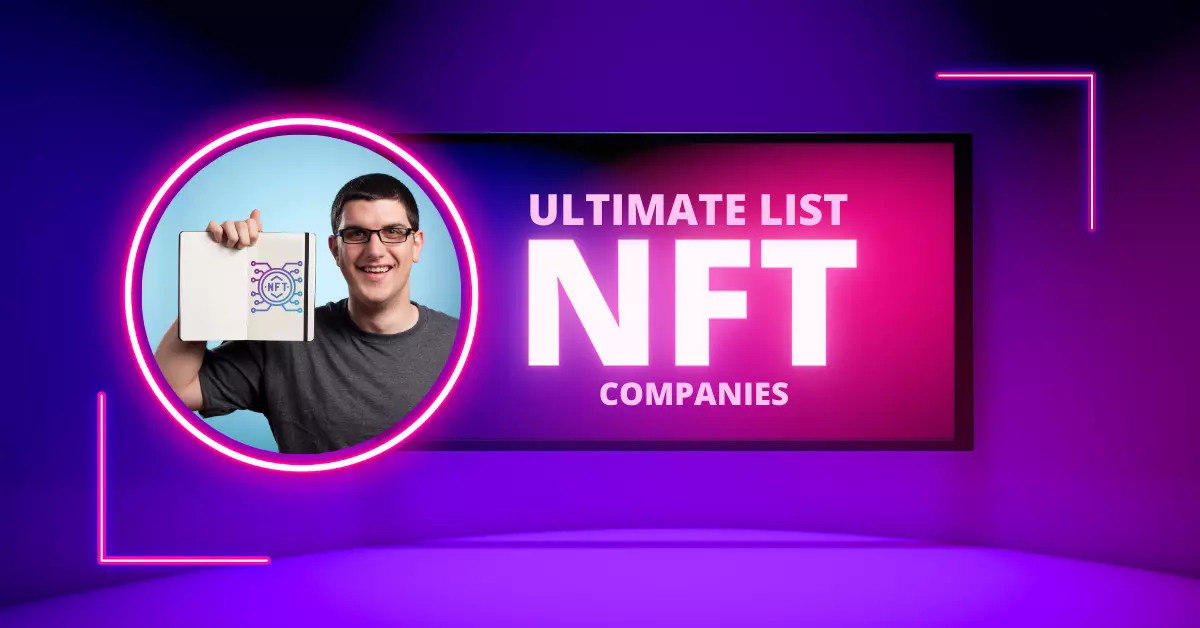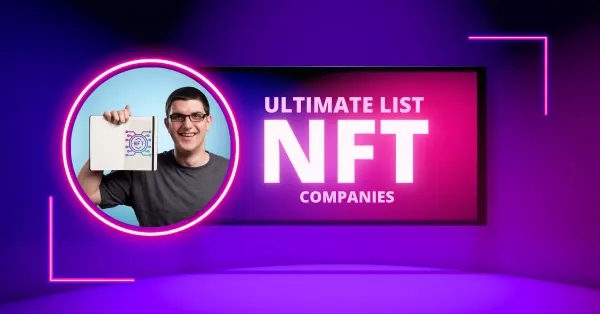 There are about 47 million results when doing a search for NFT companies and it's not hard to tell why. NFTs have exploded (and some eventually plummeted) in value and with this so has the rise in companies that specialize in NFTs.
In this article, we will discuss NFT companies, who they are, what they do, why they exist, and where you can locate them, and then we will review an exhaustive list of NFT companies from many different countries around the world.
🔥
If you want to skip directly to the full list, scroll to the bottom cheeky!
So let's get stuck into it, as we say here down under!
Firstly...
What Is an NFT Company?
What does an NFT company even do? Is it a company that is an NFT or is it a company that makes and sells NFTs? Let's find out.
NFT firms when you go to their about pages will describe themselves in all sorts of weird and wonderful ways, they talk about equity and even climate change, most of this is just tripe, to be perfectly honest.
NFT Companies Fall Into Three Categories
That's not gospel, it's just a rough idea based on what I know.
Development companies.
These guys are probably the truest definition of what an "NFT company" is. They specialize in the creation of, launch, distribution, and management of NFTs and NFT-related products and services. These products may include, games, music, movies, tickets, and more.
NFT marketing agencies.
Not much different from other digital marketing agencies. These folks help people launch and promote their NFT and related projects.
The third-party AKA the man in the middle.
Marketplaces, digital art galleries, curators, sales and exchange type websites.
You can think of an NFT development company in a similar way to a video game company, a software house, or a cryptocurrency token project. In fact, NFT companies are a combination of all of the above.
NFT marketing companies operate on a service-based model which is similar to any other digital marketing agency. While not specifically defined as an NFT company, most of these firms work directly with and for NFT companies, and the services that they provide complement the core competencies of the NFT development companies.
As for the third type, the marketplace, this is fairly self-explanatory. Think of eBay but for NFTs.
Most of what you will read here in this post is targeted at that 1st category of NFT development companies because that is what a true NFT company is, although we will also cover the other two categories when needed.
Well Known NFT Companies
Companies that specialize in NFTs are behind some of the biggest NFT projects to date. Dapper Labs for instance created and released CryptoKitties in early 2020, a blockchain-based virtual game that runs on Ethereum, and then followed it up with NBA TOP SHOT later that same year and then eventually also created NFT projects for the Ultimate Fighting Championship (UFC), the National Football League (NFL), and LaLiga, the premier football league of Spain.
Vietnamese studio Sky Mavis created the very popular NFT game Axie Infinity, and then also built its own Automated Market Maker (AMM) decentralized exchange called Katana.
Yuga Labs are well known for the limited NFT collection known as Bored Ape Yacht Club. Yuga Labs now owns another hugely popular NFT collection called CryptoPunks which was first released in 2017 by Larva Labs.
What Products and Services Do NFT Companies Provide?
This depends entirely on the model that the company operates within.
Some companies operate within a B2B climate while others focus their time and efforts on more B2C-type operations such as the creation of NFTs and NFT-based assets such as video games as well as blockchain development and more. And of course, others like the popular Dapper Labs are both a B2B and B2C model.
NFT company product and services list below:
Blockchain development
Payment services
Community creation
Web3 development
NFT design and creation
NFT development and launch
NFT and Blockchain-based video game development (play-to-earn / GameFi)
Decentralized marketplace development and management
Decentralized app (DApp) development
Collectibles, digital goods, and asset development
Swap exchanges and protocols
Wallet creation
API solutions
Metaverse development
Research and development
Fantasy sports
Quizzes
Online learning services
...and a whole lot more.
As you can see from the exhaustive list above, there is not one single product or service that NFT companies offer instead it is an expansive and growing list because of the very reasons we explained earlier. NFT companies are an amalgamation of video game studios, cryptocurrency projects, and software houses.
So let's get to it, shall we?
The Most Ultimate List (of NFT Companies) Ever!
in no particular order :)
Below are three top 20 lists covering the three categories listed above. Development, marketing, and marketplaces. After that, we will cover a few other related topics and look at answering some "People Also Ask" types of questions.
First of is the top 20 builders and developers list. I have tried to sort this group of companies based on actual build and development work and so I filtered out and removed companies that specialize solely in marketplaces or marketing-type efforts.
This list is 100% arbitrary meaning I put it together based on which company I felt deserved to be included. It will obviously not contain all NFT development companies out there but I do think it is a great list simply because it is current and all the companies on this list at the time of writing are live and active.
👉
The list does not include companies from those other two marketing and marketplace categories. We will cover those in separate lists below.
The Top 20 Builders & Developers List
Dapper Labs
Creators of CryptoKitties, NBA TOP SHOT, and more.
Yield Guild
Play-to-earn gaming guild.
Sky Mavis
Developers of Axie Infinity, Ronin Wallet, and Katana.
Immutable
Game studio, scaling solutions, and marketplace.
OneOf
Multichain NFT platform.
Venly
Blockchain, wallet services, and NFT marketplace.
Unstoppable Domains
NFT domains on the blockchain.
Sorare
Fantasy football card collecting game.
SoluLab
NFT token development, game development, marketplace development, and more.
NFTY Labs
Web3 venture studio, creators of SocialPass and NFTY Network.
Autograph
NFT platform focusing on sports and entertainment, co-founded by Tom Brady.
Mojito
Web3 platform, NFT marketplace development.
Infinite World
Metaverse, Web3, blockchain development, and game studio.
NFTs Lab
NFT creation, game studio, marketplace, marketing launchpad, and more.
Orion eSolutions
NFT development, blockchain services, e-commerce, and more.
Chaincella
NFT development, marketplace development, and marketing services.
Yuga Labs
Creators of Bored Ape Yacht Club, NFTs, and Web3.
AppDupe
Blockchain and crypto development services. Marketplace development, gaming, cloning, launchpad, marketing services, and more.
The Sandbox
Decentralized e-sports and gaming.
Forte Labs
Game economics, NFTs, and in-game token development.
Below, is a list of the top 20 NFT marketplaces. I did the same with this list as I did above. It is arbitrary. I used several resources to come up with this list and while I tried to keep the list mostly token and chain agnostic, I did include several marketplaces that are dedicated to the one blockchain and cryptocurrency project.
Top 20 NFT Marketplaces
The final top 20 list of NFT marketing agencies are listed below. The same logic applies. All are current.
Top 20 NFT Marketing Agencies
AJ Marketing
Originally a Singaporean company that has since spread its wings to nine other locations across the Asia Pacific region. Specializing in all things digital marketing. Working with brands such as BMW and TikTok and having a 1.3 billion follower reach.
Omni Agency
Canadian-based Omni Agency focuses on blockchain community management, as well as general social media marketing and shilling campaigns.
Lunar Strategy
Based in Portugal and specializing in blockchain PR, Web3 community management, crypto influencer marketing, and more. Previous clients are Oasis Network and JPEGVault among others.
CryptoPR
Claims over 100+ staff, has worked with industry Titans Crypto.com, Binance, and Paybis. Based in the United Kingdom.
CrowdCreate
California-based CrowdCreate has worked with many of the companies listed in our top 20 builders and developers list above. Specializing in crypto and NFT marketing, outreach, and influencer marketing.
X10 Agency
A full-service marketing and PR agency focused on all things Defi, Web3, crypto, and NFT. Has worked with Bitmart exchange, LegendDAO and others.
Ninja Promo
A multichannel marketing company with various locations, in London, Dubai, Singapore, and New York plus more. Having provided services to Trust Wallet, Dash, and Polkadot just to name a few. Services include ICO, blockchain, and Defi marketing.
FireCask
UK-based specialist NFT marketing firm. Customers include Expedia, Kumon, and others.
Icoda
A full-service crypto marketing agency based in Miami Florida. With some very practical services such as CoinMarketCap listing management, YouTube influencer marketing, and Whitepaper development to name a few.
Coinbound
This company has worked with some very impressive brands such as MetaMask, etoro, Cosmos, Tron, OK Coin, and Immutable X. Specializing in NFT and Web3 marketing and based in Manhattan, New York.
RNO1
Based in San Francisco but with several offices across the US. RNO1 offers Web3 experience design, VR & AR environments, and has previously completed work for EOS Foundation.
Simbaa
A Sydney, Australia-based firm with offices in London, Dubai, and Mumbai. Simbaa offers NFT marketing services and has worked with reputable companies such as Lipton and LendClick.
Fracas Digital
Based in the UK. This company appears to be devoted to only NFT and Metaverse marketing service offerings.
Neo Reach
While not just an NFT and crypto marketing company it does appear that Neo Reach has worked with some well-known and exclusive companies in the space such as Tezos and Robinhood.
Turnkey Town
This company does everything from the development of NFTs, blockchain, and IDO/ICO launchpad development to all of the assumed marketing services that go along with these types of projects. Located in Chennai, India.
Token Minds
Located in Singapore, this is another firm that takes the 'we do it all' approach. They call themselves a creative engineering company and offer community building, IEO marketing, and NFT generative art solutions.
Guerrilla Buzz
A company dedicated to crypto, blockchain, and NFT marketing services since 2018. Having worked with CoinGecko, Bancor and Bit.com this agency is based in Israel.
Viral Nation
Viral Nation calls itself a modern marketing and technology company. Based in Ontario, Canada, and offering NFT minting services, blockchain, and Web3 marketing.
CryptoVirally
A full-service crypto marketing agency offering NFT promotions and press releases, community management, and shilling services.
Think we missed something in any of our lists? Hit us up. You'll work out how.
People Also Ask
Who are the top NFT companies?
There are many top NFT companies. Some of them include Yuga Labs, Sky Mavis, Immutable, Mojito, and others. Scroll up top for a full list of the top NFT companies.
What are NFT companies?
An NFT company usually refers to a company that specializes in the development of NFT-based products, services, and assets such as digital art, games, tokens, music, and more. Sometimes NFT companies can include NFT marketing agencies and NFT marketplaces.
What is the best NFT to buy?
No one can possibly know the answer to this. There were as many as 360,000 NFTs in 2021 and it's expected that number has already doubled if not tripled. Meaning, this is like finding a needle in a haystack and one that's worth a lot of money. There are research and social analytics companies that look at this type of data, but even then it's too hard to say. NFT value is derived from many different sources. As boring as this answer is do your own research (DYOR), and don't spend more money than you can afford to lose.
Who is the biggest NFT marketplace?
The reigns to the biggest NFT marketplace continue to belong to OpenSea. Many people in the space suggest that their reign may come to an end in the next few years with more and more competitors opening up shop.
How much does an NFT marketing agency charge to promote and NFT?
This will vary from country to country and agency to agency. Though it is not uncommon to see prices in the range of $10,000 - $15,000 for an NFT promotion package.

How much does it cost to create an NFT?
This depends mostly on whether or not you create the NFT yourself or you outsource the work to an NFT development company. If you create the NFT or the collection yourself or, have it done in-house, your costs are only going to be for the minting and marketplace fees. Mostly you can get all of this done for well under $5. If you are paying a designer or artist, obviously you need to take into account their fee or hourly rate.
If you are outsourcing the work to a design and development firm it could cost you well over $10,000 for a collection or likely a lot less if it's just for single-digit NFTs.
Want to Keep Reading?
Want to know how you can support Crypto Fireside?
Sign up below. It's free and easy 🔥