OpenSea Trust Wallet Guide (DON'T Buy NFTs on OpenSea with Trust Wallet Until You Read THIS!)
Do you have a Trust Wallet account and want to buy NFTs from the popular OpenSea marketplace but can't work out how? Read on...!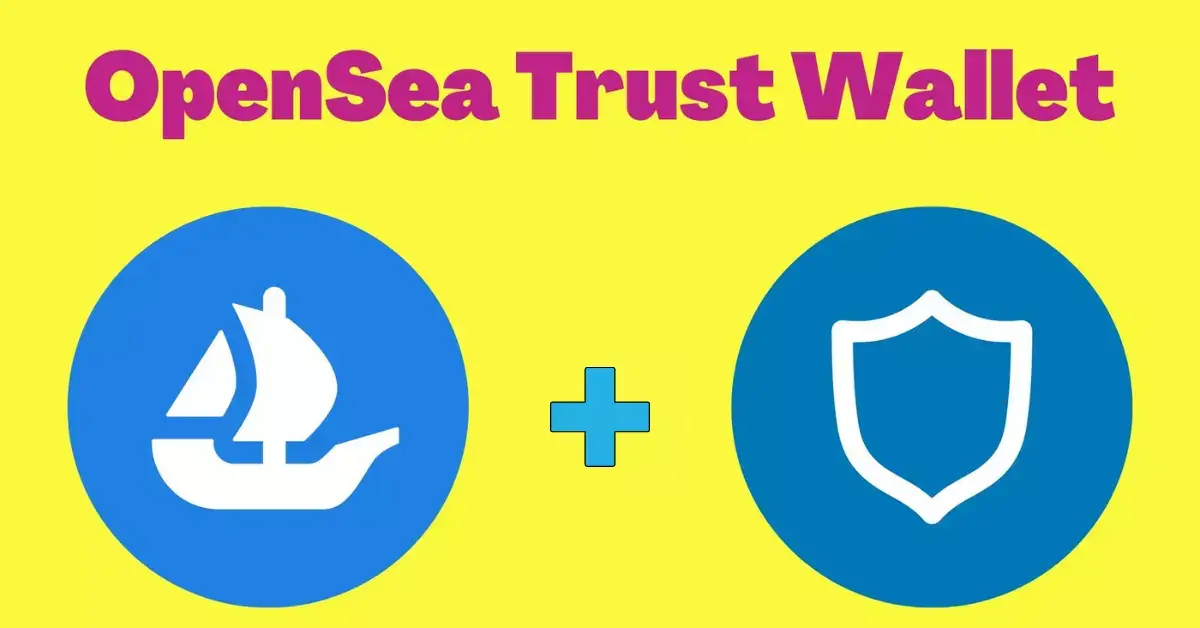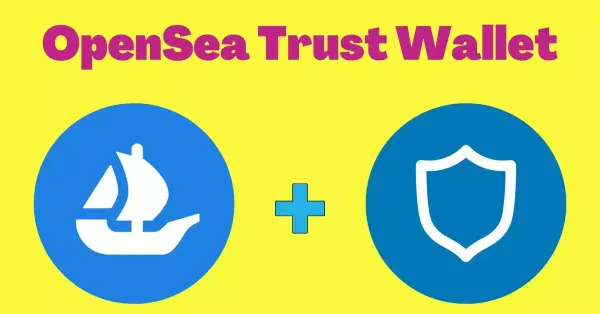 Before we get stuck into the meaty stuff (how to use your Trust Wallet to buy NFTs from the OpenSea marketplace) let's just briefly go over some of the basics to make sure we're all on the same page!
OpenSea as you likely already know is an Ethereum-based marketplace for buying, selling, and exchanging NFTs. OpenSea now also accepts other cryptocurrencies such as SOL, USDC, and DAI. It is the largest NFT trading marketplace and home to some of the most popular NFTs.
There are over 80 million NFTs that are sorted by price, type, and release dates on the OpenSea marketplace.
Now that's out of the way...
OpenSea Trust Wallet: Guide
...you've probably come across this guide because you want to know how you can connect your Trust Wallet to OpenSea and begin buying NFTs via the marketplace or perhaps you have come across a problem when trying to buy NFTs from OpenSea with Trust Wallet.
Here is the most common issue people come across...
The #1 Most Common Issue With Trust Wallet and OpenSea Is This!
While OpenSea does offer a mobile application, the mobile app is designed for browsing and not buying! For whatever reason OpenSea seems to have created its marketplace for a desktop PC experience and the opposite is true for Trust Wallet, it is designed to be a mobile application!
This is kind of like trying to force a square peg in a round hole!
Most people that are new to either one of these apps do not know this. So, how do we get these two applications to work together?!
Easy...Trust Wallet has a function called DApp browser that is in-built. This DApp browser is what will allow you to buy NFTs on the OpenSea marketplace with your Trust Wallet mobile application.
To Buy NFTs on OpenSea Using Your Trust Wallet, Follow These Simple Steps:
👉
This guide is primarily focused on Android users however Apple iPhone iOS users can still follow along as the Trust Wallet app should be almost identical versions with iOS being only a few versions ahead.
Step 1
First, if you don't already have the Trust Wallet app, you need to go to the Google play store for Android or the Apple store for iPhone users, download Trust Wallet and install it on your mobile device. This takes no more than 30 seconds.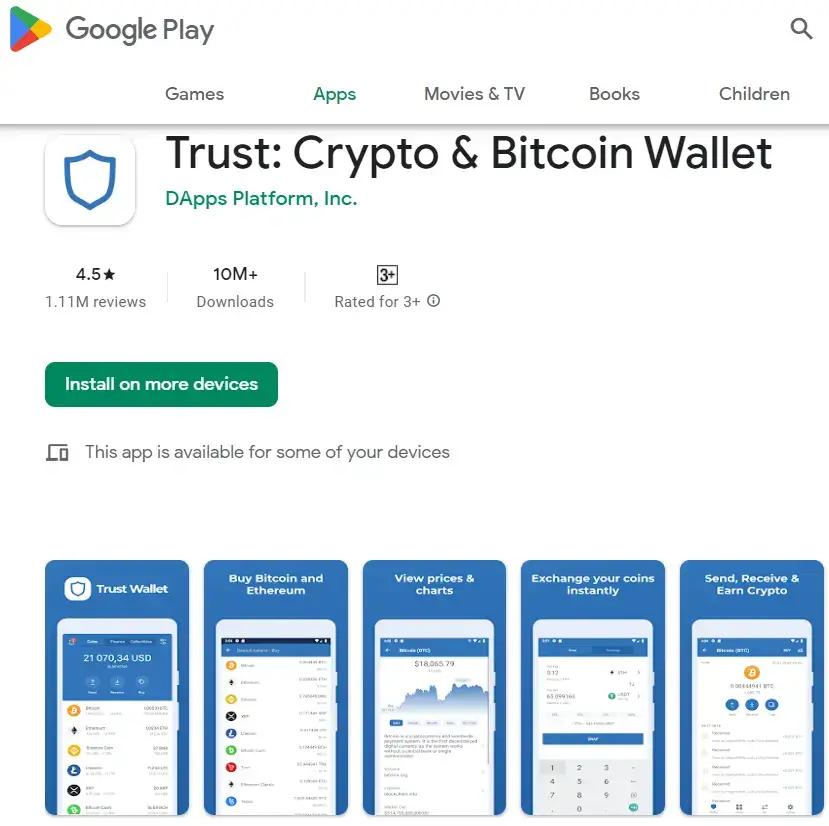 Step 2
Open the Trust Wallet application and create a new wallet address if you don't already have one. This will be the first option. Then click continue and accept the terms and conditions.
Step 3
After that, you will be prompted to create a passcode AKA password/pin for your wallet. You will next be provided with a 12-word recovery phrase. Copy this phrase in the exact order that it is given to you and put it in a safe location. It is best if you store this offline, where nobody will be able to reach it. Once done, you will be asked to enter this passphrase in the correct order.
Step 4
Once you have entered these words in the correct order you will be ready to use your Trust Wallet to buy NFTs on OpenSea.
👉
Important reminder: you cannot buy NFTs using the OpenSea mobile app; you can only use the OpenSea app to browse and track NFTs and other information. You will use the Trust Wallet DApp browser to access OpenSea and make your purchases there.
Step 5
In your Trust Wallet click on the DApps icon with the four dark grey colored squares as shown below.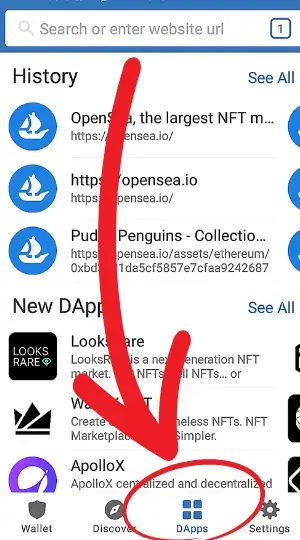 Step 6
In the Trust Wallets DApps browser option go to the search bar up to the top and enter "Open Sea" or simply "opensea.io". This will now give you a range of options not too different from if you were using a standard browser. Alternatively, in the same DApp browser, you can also scroll down to "Marketplaces" tap on "See all" and select OpenSea from there.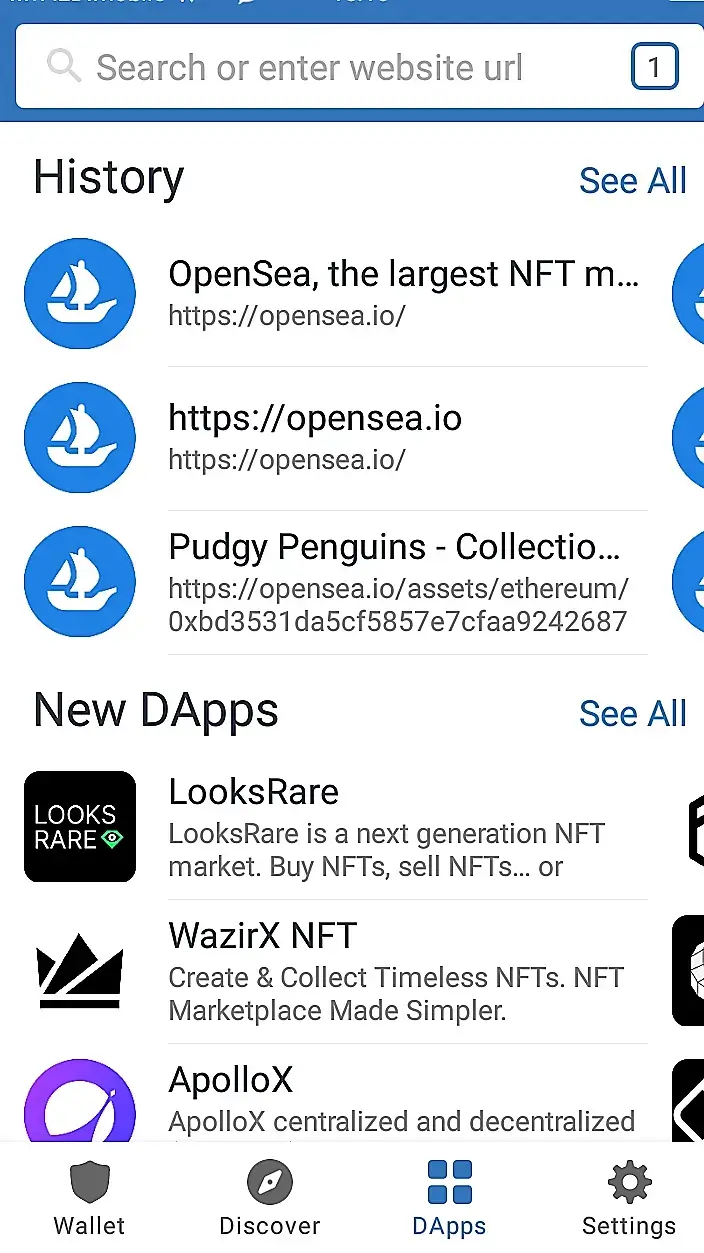 Step 7
Select the opensea.io option and go to the website's upper right-corner hamburger menu option (the three lines).
Step 8
Tap "Connect Wallet" and then usually you will have to select "Show more options".
Step 9
Select Trust Wallet (alternatively you can also select Wallet Connect).  You will then be shown the OpenSea logo, and your wallet, and it will now show you what it is you are allowing the OpenSea app to do when connected to your wallet e.g. view your balance and request approval for transactions.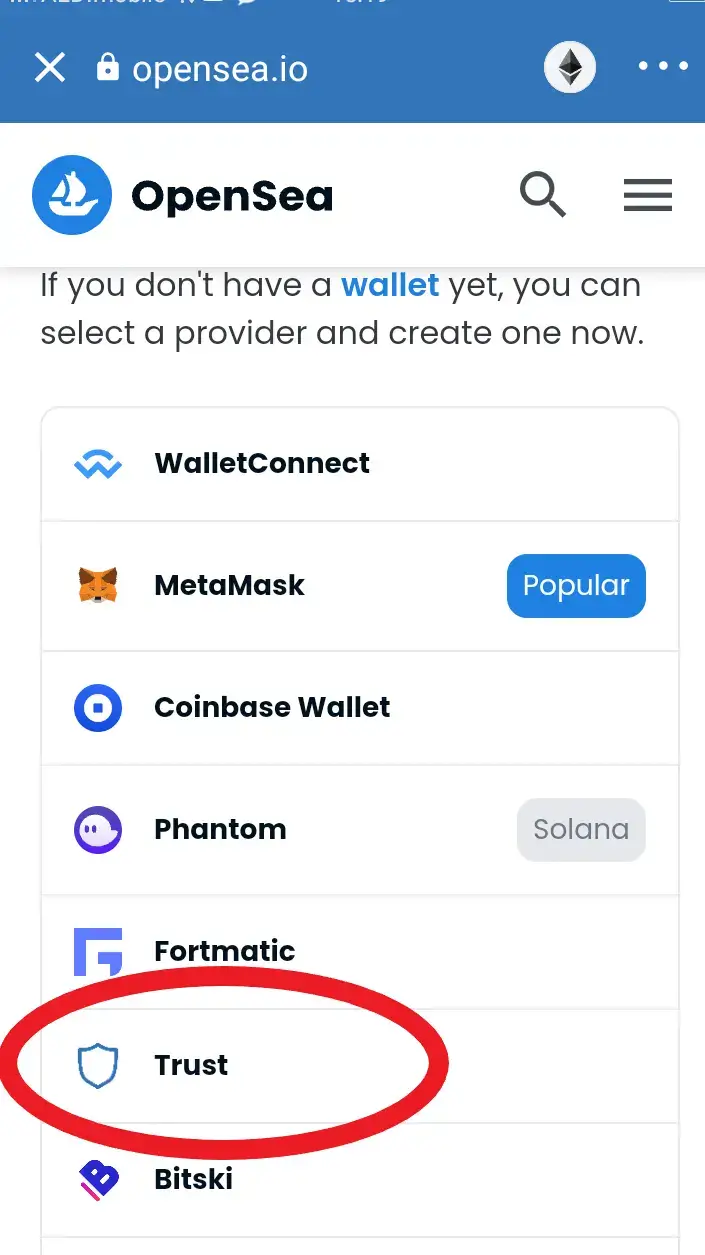 Step 10
Tap "CONNECT". You will then be greeted with a welcome message and offered OpenSea's Terms and Privacy Policy and offered the option to "Cancel" or "Accept and sign", if you want to continue, select "Accept and sign", a new "Signature Request" screen will open up showing some basic wallet and DApp information and now you will want to select "SIGN". The app may ask for your passcode/pin details again.
Step 11
Once this step is completed and if you have funds in your wallet you are basically good to go. If like me, there are no funds in this wallet (because I'm poor, JK, I don't usually use Trust Wallet), OpenSea will prompt you to "Add funds" or provide your wallet address to which you can deposit funds in to from another wallet or exchange.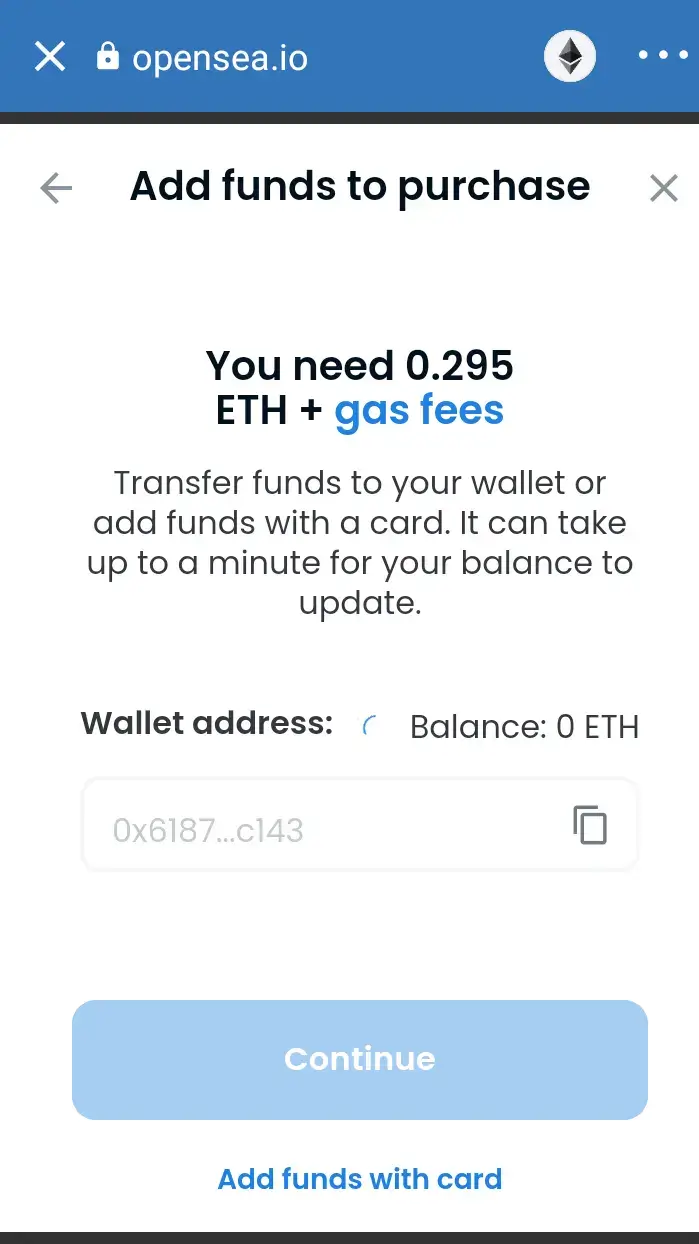 Step 12
From here you can browse or search for NFTs or collections.
👉
Note: while this is NOT an NFT buying guide, some common sense should always be offered...when buying an NFT, do not just buy any NFT just because it looks good. It's better to do your research and find out the utilities and fundamentals that the NFT has before making any purchase.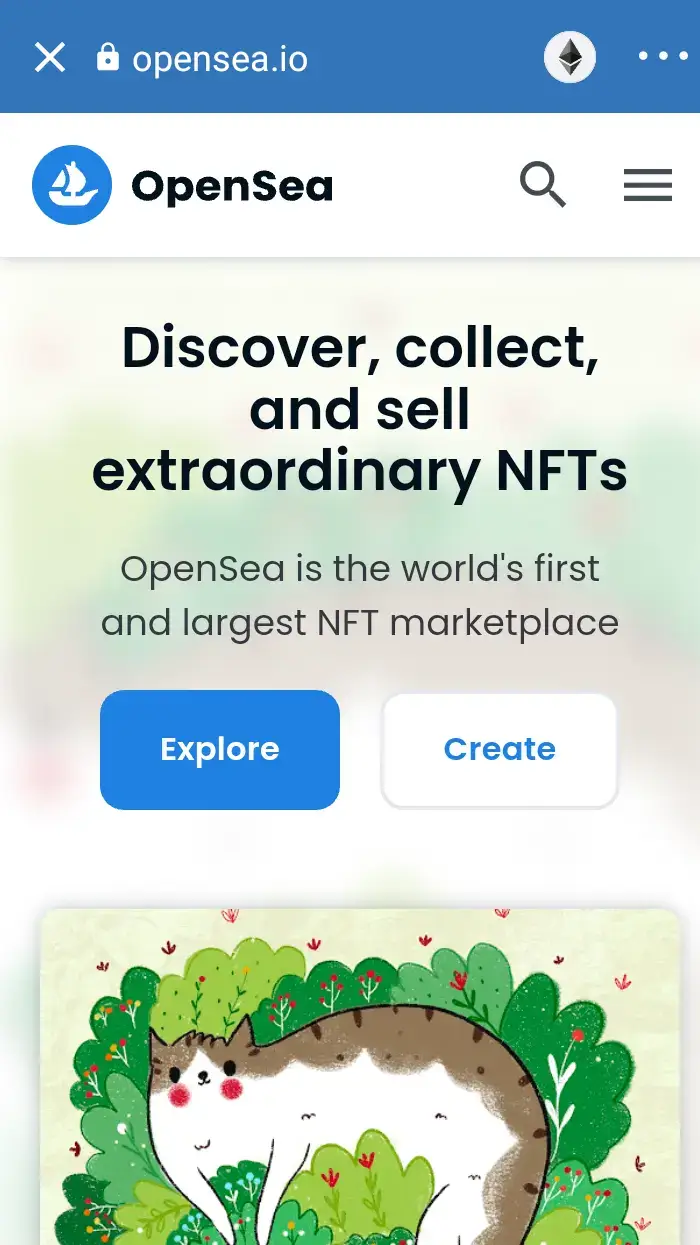 Step 13
After deciding which NFT to buy, go ahead and click on the NFT. You can either choose to "Make an offer" or click on "Buy now."
Step 14
When you click on buy now, all you have to do is check the box to agree to OpenSea's terms of service, confirm the details, and checkout, if you have funds, if not OpenSea, will offer you the ability to "add funds with your card" as mentioned previously.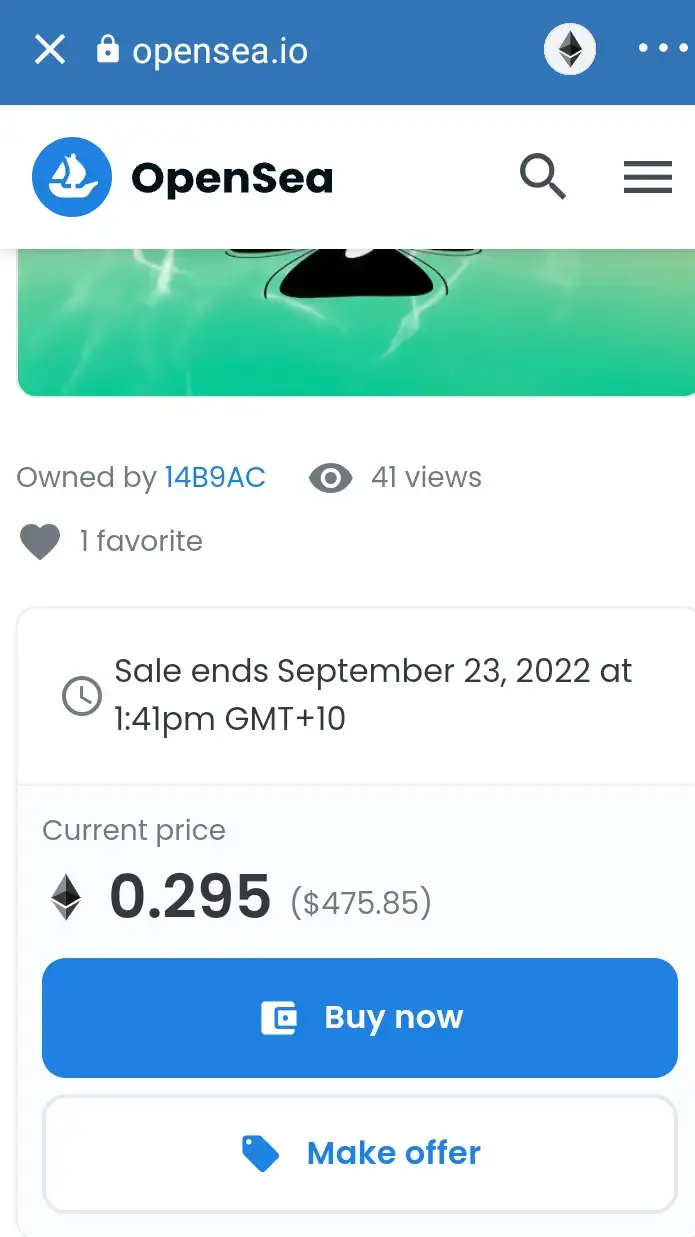 Once the purchase is made you can now view your NFT in your Trust Wallet via the NFTs tab.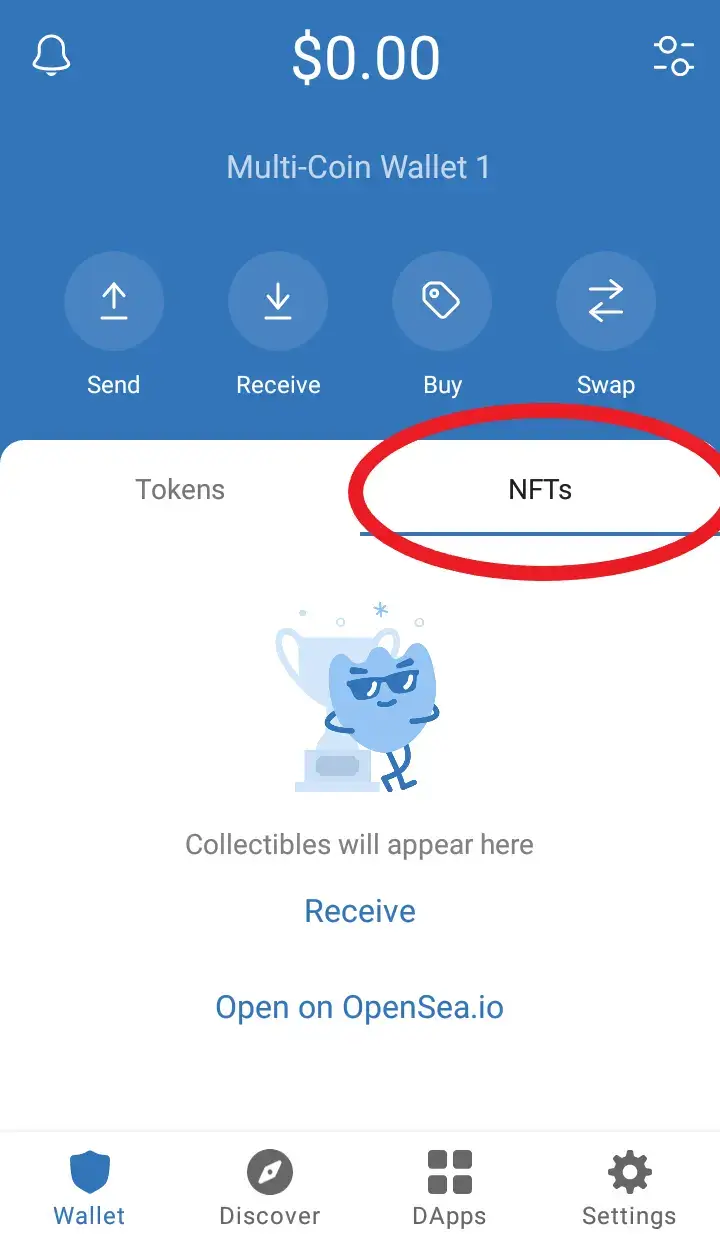 We hope you enjoyed this guide, if you liked it give it a share.
Want to Keep Reading?
Want to know how you can support Crypto Fireside?
Sign up below. It's free, it's easy, and it allows you to comment and join the discussion 🔥!