Web3 Agency - The Future of Digital Marketing Is Web3 (Where All the New Fortunes Will Be Made)
What is Web3, what is a Web3 agency and why it's important...especially if you are in the digital marketing space!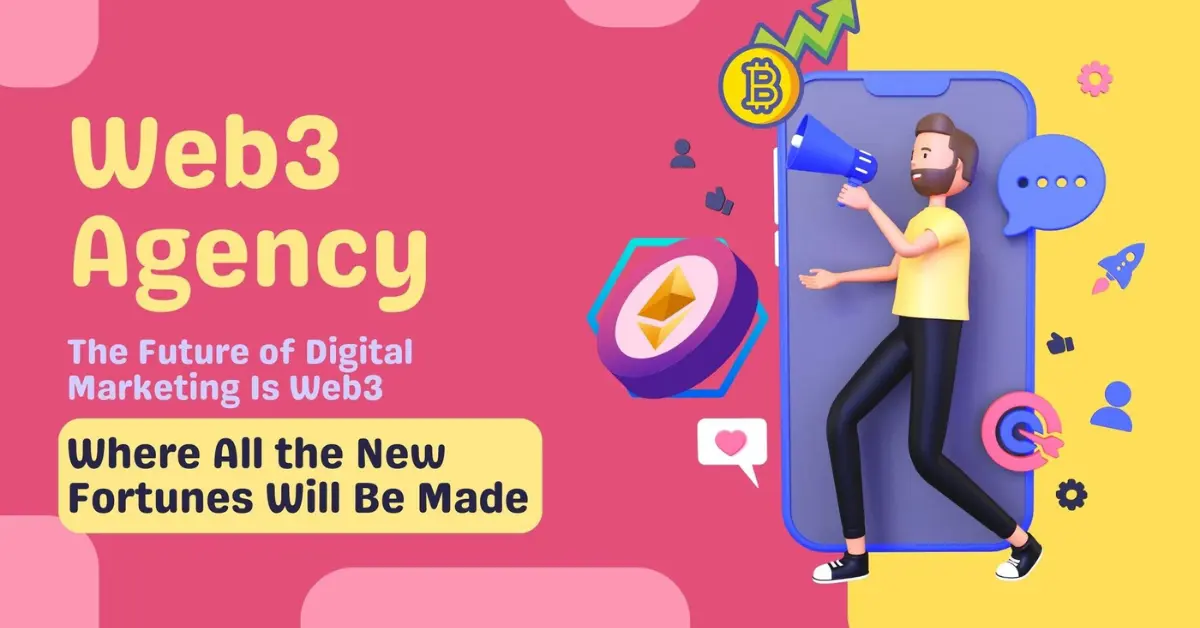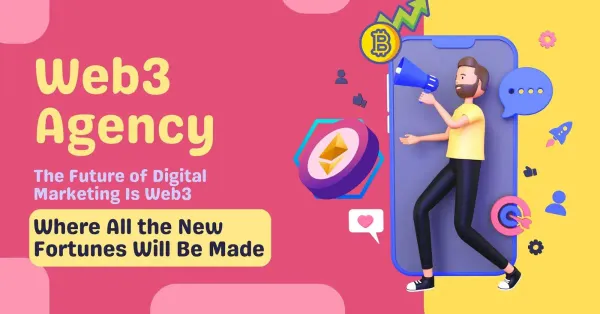 How exactly can you describe a Web3 agency? Is it accurate to refer to web3 as the better version of web2? You could say we are looking at the next generation of online marketing. As the dynamics of our daily online lives continue to change, startups are looking for better ways to hone their digital marketing skills. Web3 could be the playfield for every marketing campaign. How so? This article will explain the depths and breadths of the upcoming next-gen internet and how a web3 agency is essential in digital marketing.
The Road to Effective Online Marketing
Online advertising has been integral in generating leads for businesses. For starters, it is cost-efficient and lets you formulate targeted marketing campaigns that can effortlessly reach people in any part of the globe. All these perquisites of online advertising have been made possible by the marvels of the internet.
Although the internet has introduced a seamless way of connecting computers worldwide, you still need software to provide the medium that lets you access the content conveyed. This software is what's called the web. Since its launch, the web has evolved over the years as everyone anticipates the full launch of web3.
This new web is powered by blockchains, smart contracts, distributed ledgers, and other technologies. These features present unimaginable possibilities of how digital marketing will be revolutionized in the future hence the rise of web3 agencies.
What is a Web3 Agency?
A Web3 agency is a company that specializes in utilizing the power of blockchain technology to grow NFT projects digitally in the ever-growing world wide web. It uses cutting-edge technologies to strategically aid businesses and firms connect with new customers and maximize their revenue through Web technology.
Companies consider working with Web3 agencies to access the latest technologies and strategies - an imperative step in the growing global market.
Marketing is undergoing a paradigm shift, with the full launch of Web3 at the forefront of this revolution. These agencies rely on Web3 to showcase transparency, privacy, and decentralization. Such perquisites draw the perfect trajectory for companies setting up their marketing goals.
Unlike Web2, this new internet model ensures users are in full control of their own data and can have a say in whether or not to share it with marketers. Using Web3 ensures that users get protected and provides more control over the content they see and the ads they receive.
Furthermore, integrating blockchain technology into Web3 ensures the system remains more secure and fraud-proof.
Web3 will most likely be the leader in digital marketing soon. Web3 agencies will aid companies in transitioning to this new era of the world wide web and metaverse marketing.
Web3 Is Coming Whether People Choose to Believe That or Not
Agencies know this.
The foot is in the door so to speak and many millions of early adopters all over the world are already utilizing Web3 tools such as MetaMask, TrustWallet and playing Web3-based video games such as Axie Infinity. They're voting with their money so to speak.
Those agencies that are moving to provide Web3 services now are probably going to rake in fortunes over the coming decade as they set their clients up for the coming Web3 boom with services such as:
Token launches and distribution.
Community development.
Blockchain development.
Influencer marketing.
NFT insights and analytics tracking.
There are several marketing agencies to choose from when choosing the best agency to help your firm traverse this evolving ecosystem. Selecting a suitable Web3 agency for your firm requires colossal research. One stand-out tip is to look for an agency that aligns its visions with your company to ensure you get phenomenal results.
A Short List of WEB3 Agencies to Watch
RNO1
RNO1 is a company that aims to guide game-changing tech brands across the sea of Web3 via agile design and digital experience. The firm has a few major ingredients to its platform, including:
The EOS Network Foundation - aids the power of decentralization
Source - brings more power over your data
Highline - set to revolutionize the world of credit
Prive - the powering subscription for everyone
RNOI enables companies to define, develop and deploy various design solutions necessary to ensure unrivaled competitive advantage in a sea of competitors.
The agency is fixed on extreme distinction and ensuring growth movements get pre-loaded into everything they reach.
Ninjapromo.io
Ninjapromo is a full-stack blockchain development firm that provides startups with a wide range of services. They include: working in cryptocurrencies, finance, and B2B marketing. Polkadot has had phenomenal success working with Ninjapromo in the past.
The agency focuses on website creation, mobile app development, email marketing, influencer marketing, blockchain development, content management, video development, and sponsored media is the best option for optimum results in Web3.
Solulab
Solulab agency specifically provides high-end Web3 development services and creates cutting-edge technologies that generate innovative and useful solutions for companies indulging in the Web3 craze.
The firm's development services also cater to a company's individualized needs of different businesses and Web3 platforms. Solulab comes with several Web3 development services, including Games Games Development,  NFTs, Integration Services, etc.
Solulab focuses keenly on its objectives and ensures all its customers' problems are solved immediately.
Single Grain
Single Grain offers CRO, cryptocurrency, NFT, and SaaS services. It's accompanied by world wide web traditional strategies like SEO, paid media, and content marketing with innovative services. It's integrated with several data-driven strategies to help promote their client's NFT.
What's more, Single Grain offers customized packages where businesses choose between products and services that are significant to their own network.
An agency like Single Grain has established itself as a Web3 agency capable of significantly boosting a Web3 firm in profitability via skilled digital marketing.
Crowdcreate
Crowdcreate provides firms with all the strategies and secrets required for web3 marketing. The ever-changing Web3 market requires knowledge of the content with the highest reach and conversions to track who is still creating relevant viral content.
Crowdcreate has been operating since 2017 and has emerged as a blockchain marketing and strategy pioneer. The firm has worked with some of the largest companies in the world to raise investor funds, increase sales, create buzz, acquire users, and significantly grow their online community.
Hiring a crypto and NFT marketing agency like Crowdcreate provides strategies and secrets your company is missing. A firm can connect with the top NFT influencers, investors, and thought leaders who can help a project grow.
Conclusion
Web3 is yet to establish its full potential in the world. Still, it's a fascinating experiment that will only grow in importance as more people become aware of it and the underlying technology it can deliver.
Any project that aims to be successful in the latest world wide web developments needs to equip itself with a Web3 marketing firm to boost its status.
The agencies mentioned above could be a place to start the search for your marketing partner. However, finding the perfect agency will significantly assist firms in developing a plan that keeps them ahead of the competition.
Taking advantage of an effective marketing campaign helps prioritize potential clients. A Web3 agency can track the right resources to target a certain market. It will direct a company to locate the right audience easily and can turn a marketing agency into effective communication.
Frequently Asked Questions
What is Web3?
Web3 also known as Web 3.0 is an advancing platform for human interaction and collaboration through technology.
There is no longer a need for people to meet face-to-face to communicate ideas and work together. This already exists. With the internet today, as a platform, we have established connections without meeting each other. We can now have conversations with anyone worldwide, rather than just those who live nearby.
Web3 simply takes this connectivity that Web1 and Web2 provided us and deeper links it through things like Blockchain technology and token-based economies.
When the World Wide Web was first released to the public, it lacked something critical and that was a way to debit and credit one another through a viable Internet currency. Web3 solves that.
You might be thinking, but hand on a second, I can already use my credit card, Venmo, Stripe, or PayPal to pay for things online, sure, but those are bolted-on attachments much like how you would customize a car. The car, or the internet in this example never came with built-in payment and money transfer systems.
Web3 takes that problem and says, here is a way to connect your crypto wallet to the internet and interact directly. You can pay for things like games, NFTs, make payments, receive tips, and more and this is just the tip of the iceberg.
Is Web3 better than Web2?
The new web generation has been asking for something different from the old way of doing things, which is why we're seeing the emergence of web 3.0. Simply put, web3 is the third wave of the internet where users expect real-time communication and interaction with web applications. With web 3.0, developers can build apps that use real-time data and don't require a server, such as decentralized networks.
What does a Web3 Agency do?
A Web3 agency does all of the traditional things that a digital agency would do such as create websites for businesses while also managing all aspects of internet marketing campaigns such as SEO, social media marketing, email marketing, PPC advertising, etc.
The main difference between a traditional digital web agency and a web3 agency is that this newer style of digital agencies will offer services that directly feed into web3 and solve their customer's web3 needs such as token launches and distribution, community development, and management of apps such as Discord and Telegram, Blockchain development and integration and more.
Is Web3 related to Blockchain Technology?
Yes! The Web3 movement is about decentralizing the web through blockchain technology. The term "Web3" has been coined by some industry experts who believe that the internet should be decentralized rather than controlled by corporations like Facebook, Google, Amazon, etc. They argue that centralization leads to data breaches, privacy issues, censorship, and surveillance. And they would be right.
Final Note
It's likely that in the very near future, in the same way, that the internet disrupted business and media, Web3 along with its sidekick the Metaverse will disrupt modern industries.
The switched-on agencies that are pivoting or rearranging their business models up for Web3 will reap the rewards in due course.
Think about this, you could host seminars, run your business meetings or host a podcast directly in a Metaverse or a video game and perhaps even be paid for it via in-game or in-verse Web3 payments and tipping. This is not a far stretch.
As more and more money begins to be pushed into these spaces, they will only continue to grow and what we see now as a small space with only tech-focused early adopters, will likely grow into something that most of the world's internet-connected people begin to use on a daily basis.
Want to Keep Reading?
Want to know how you can support Crypto Fireside?
Sign up below. It's free and easy 🔥