Plutus Card: Revolutionizing Payments with Crypto Cashback
The Ultimate Guide to Plutus Card. What is it? How to use it? Does it sound too good to be true? Find out here.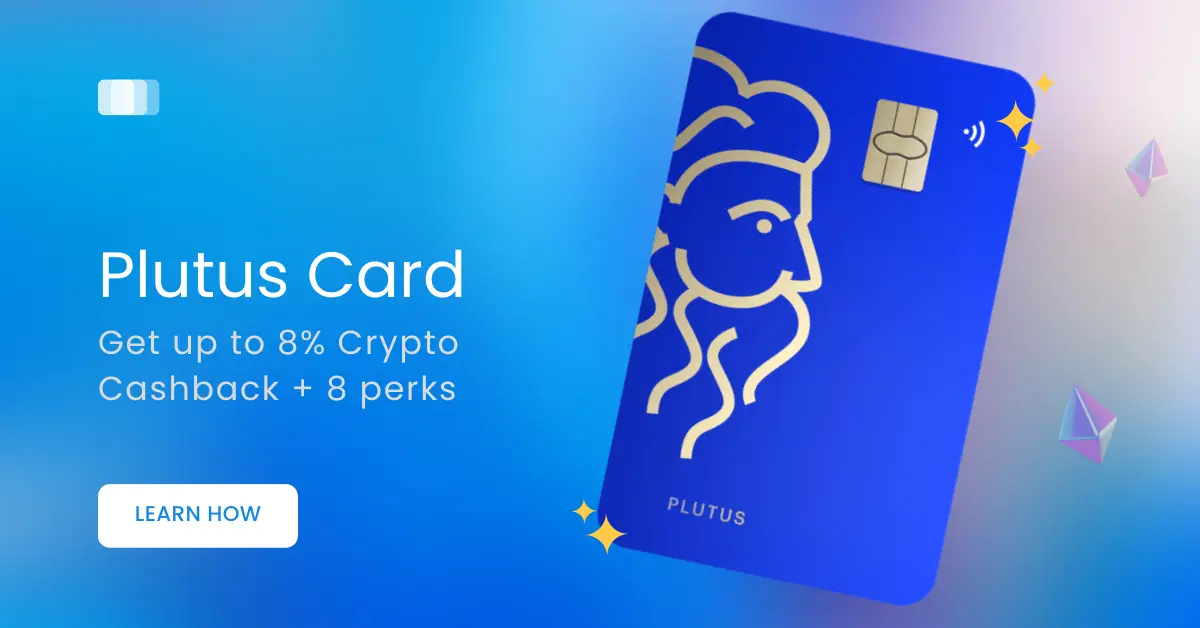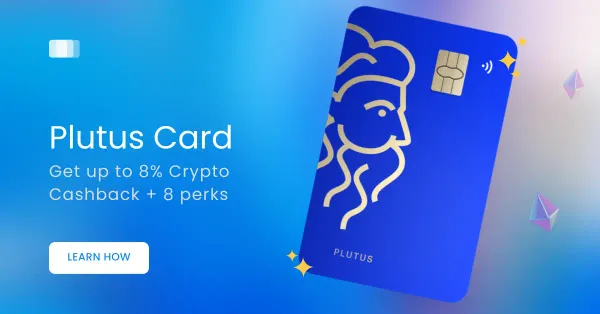 The Ultimate Guide to Plutus Card. What is it? How to use it? Is it too good to be true?
Introduction
The Plutus Card is a groundbreaking financial product that combines the convenience of traditional fiat payments with the benefits of cryptocurrency. By using the Plutus Card, users can make purchases in fiat currency while earning PLU, the native cryptocurrency of the Plutus ecosystem, as cashback.
You can get 3% of cashback with NO commitment in terms of funds you need to invest whatsoever plus you get one free perk. Which is a cashback of up to €10 per month for something like Amazon, Shell, Netflix, etc. You can also get up to 8% cashback plus 8 perks if you hold a significant amount of the project's native token PLU. This innovative approach to payments is transforming the way people interact with cryptocurrencies and opening up new possibilities for mainstream adoption. But is this too good to be true? Is it sustainable? Let's get into the details!
What is Plutus?
Plutus is a payment platform that aims to bridge the gap between traditional finance and the world of cryptocurrencies. The platform offers a range of financial services, including a decentralized exchange (DEX), a non-custodial wallet, and the Plutus Card, a debit card which allows users to spend their fiat currency and earn PLU tokens as cashback. Their motto is "Don't Buy Crypto, Earn It!" The card's name comes from the Greek god of money Plutus.
Who is behind Plutus?
Plutus is a fintech company based in London, UK. It was founded in 2015, and behind it is a FinTech entrepreneur and an early ambassador of digital currencies: Danial Daychopam. Before Plutus Danial was a co-founder of LazyCoins crypto exchange. Currently Danial acts as the CEO and he is the public figure behind the project. He also has a co-founder Jasper Tay: an ex-bond trader and a FinTech entrepreneur with close to a decade in the financial markets. Recently he launched an all-to-all hedge fund trading platform for credit derivatives.
The Plutus Card
The Plutus Card is a Visa debit card that enables users to spend their fiat currency at 61 million merchants worldwide. The card is linked to a user's Plutus account, which can be funded with EUR, and GBP. When a user makes a purchase with the Plutus Card, they receive up to 8% of the transaction value in PLU tokens as cashback.
How much does the card cost?
Plans start from €0 and can get up to €14.99 per month. The benefits of getting a paid plan are that with Everyday and Premium levels you get 2 and 3 perks respectively, a 0% Fee on the DEX and a much higher limit on how much cashback in PLU you can get.

PLU Crypto Cashback
The PLU token is an ERC-20 token built on the Ethereum blockchain. It serves as the native currency of the Plutus ecosystem and can be used for various purposes, such as staking (though not in the traditional crypto sense), and accessing exclusive discounts and rewards.
When a user makes a purchase with the Plutus Card, they receive a percentage of the transaction value in PLU tokens as cashback. The cashback rate varies depending on the user's staking level, with higher staking levels offering more attractive cashback rates. This incentivizes users to hold and stake their PLU tokens, which in turn helps to support the value and utility of the token within the Plutus ecosystem.
The percentage starts from 3% (if you don't stake PLU) and gets up to 8% (if you stake at least 2000 PLU).

What does stacking mean? As you know, crypto staking is when you pledge your cryptocurrency toward helping validate transactions on the blockchain. But here we have stacking. And this includes basically holding PLU, either in your account or in two non-custodial wallets. It is not even locked, so it could be moved or sold at any moment.
As an example, if you want to reach a G.O.A.T level with your Plutus account. You can have:
350 PLU in your Plutus account accumulated by cashback.
1000 PLU in your MetaMask wallet that you have bought.
650 PLU in another MetaMask wallet that you have.
Both wallets need to be connected to your Plutus account in order to receive the G.O.A.T level rewards.
The Plutus Card Perks
On top of the cashback that you get with your card purchases, you can also select from a list of perks for which you will get even more cashback. Here you have two types of pers: subscription perks and retail perks.
Subscription Perks
Receive a 100% rebate in PLU on all subscription-based Perks

Retail Perks
Receive up to €10 rebate in PLU on all retail-based Perks.

Let's say you have a free Plutus account, so you don't have a monthly fee. And you also don't stake your PLU. Even in this case, you would have 3% cashback on your purchases and 1 free perk. For example, you decide to pick a Netflix subscription as a perk. You need to subscribe to a Netflix account with your Plutus card, and each month, after your card is charged for the service, you will get the equivalent of what you have paid in fiat in PLU back to your account. Awesome, right? Important detail, as a measure to prevent possible unethical schemes, your cashback PLU will be available 45 days after a given purchase.
Now let's say you have 1000+ PLU staked. Then you have reached a Legend level, so you can choose 6 perks each month and get 6% cashback on your purchases. You choose Netflix, Spotify, Curve, Booking.com, IKEA and Amazon as your perks. If you spend €1000 on a hotel on Booking.com you will get €10 back, (having Booking.com as a perk), but also 6% cashback on the other €990, pocketing €59.4 cashback in PLU + €10 from the perk, getting close to €70 cashback in PLU.  
You can choose from 20+ cool perks. New ones are added every now and then. Check all perks here plus detailed information here.
📕
If you would like to create a Plutus account, you can use this link in order to get a $10 bonus in PLU (We will also receive the same).
Plutus Card + Curve Card = The dream card combination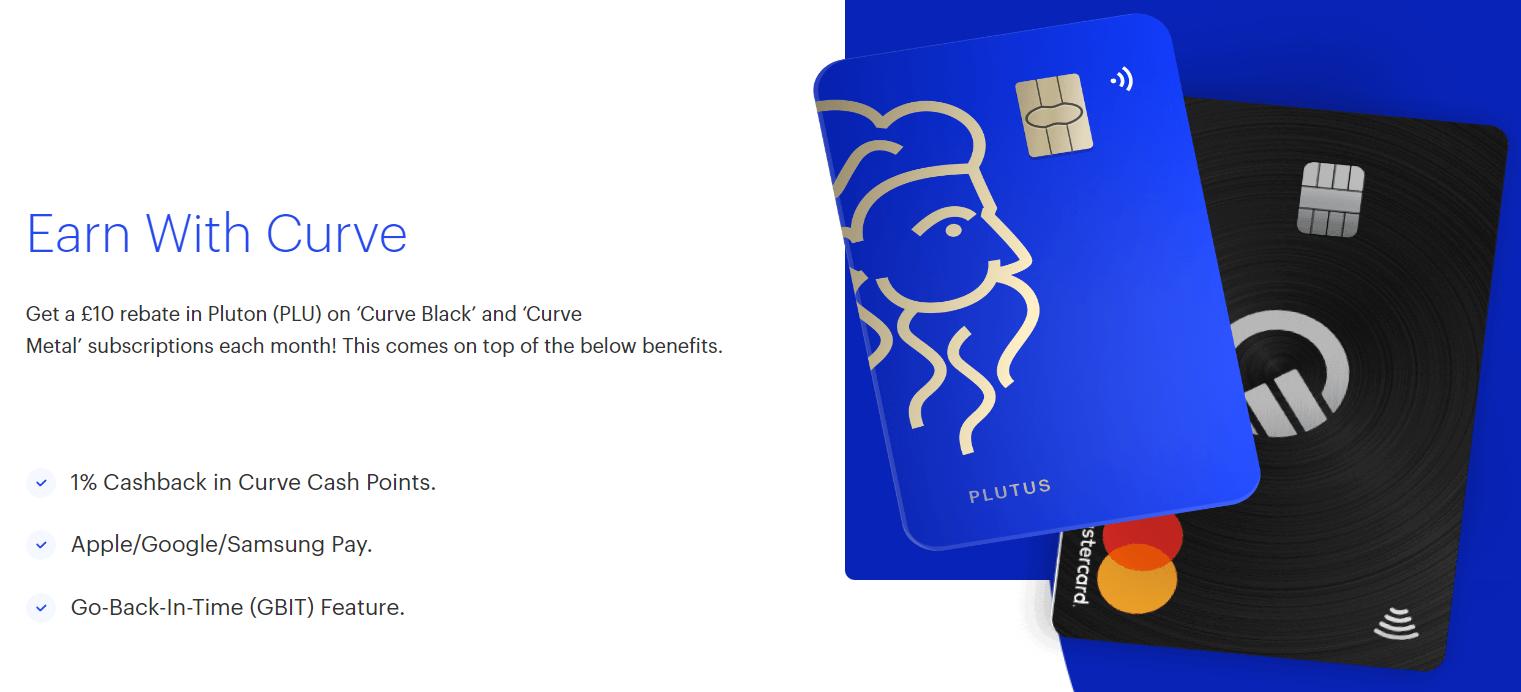 In November 2022, Plutus and Curve announced a partnership. And as a result from it you can select the Curve Black perk with Plutus and get €10 in PLU every month to cover the whole cost of your subscription. You can also choose Curve Metal as a perk and get all the benefits for just €5 per month.
Curve Black is one of their premium cards, which means that on top of the usual Plutus Perks, you'll also get Curve Black benefits:
Unlimited 1% cashback at 3 selected retailers
Unlimited access to fair FX rates
Fee-free cash withdrawals abroad up to €400/month
Travel insurance wherever you are in the world
Go-back-in-time function
Further, if you use your Plutus card by adding it to your Curve cards stack you get fixes to some Plutus current limitations like:
Apple/Google Pay option
Better FX rate
Metal card (if you choose Curve's highest plan)
Read more about Curve and see the plans that it offers here.
The Plutus DEX and How you can sell your PLU
The Plutus DEX is a peer-to-peer exchange that allows users to buy and sell PLU and ETH. Buy orders and Sell orders get matched automatically and the transaction between fiat and crypto happens seamlessly.
The DEX is available in both the web app and the mobile app, and users can use the funds of their Plutus Accounts and their crypto assets from external wallets.
When you sell your PLU on their own DEX a fee of at most 1% is charged in the sales transaction. You can also transfer the money to an external crypto wallet, but in that case, you have to pay the costs of the transfer yourself.
Important: Currently the Plutus DEX is not working, due to to "major updates". It is paused until the 30th of June 2023. So the only way to buy or sell your PLU is by purchasing it on a centralized exchange like Coinbase or using a swap aggregator like DeFiLlama's Meta DEX aggregator.
Benefits of the Plutus Card
We went through most of the pros and cool functionalities of the Plutus card. But let's summarize some of them:
Great combination of fiat and crypto
We're still far from the day in which you would be able to spend your crypto directly with most merchants without having some form of conversion of the crypto to fiat. The Plutus Card allows users to spend their fiat currency while earning crypto cashback, making it easy for people to earn crypto without any actual investment of funds.
2. Global acceptance
As a Visa debit card, the Plutus Card is accepted by 61 million merchants worldwide, giving users the freedom to spend their funds wherever they choose.
3. Non-custodial wallet
Plutus offers a non-custodial wallet, which means that users have full control over their private keys and funds. This provides an added layer of security and peace of mind.
4. Perks
Plutus offers 20+ awesome perks with which you can get cashback €10 in PLU cashback at spending for gas on Shell, furniture in IKEA, whatever from Amazon, or other great places and popular services like Amazon Prime, Airbnb, Uber, Disney+ and many others.
Negatives of the Plutus Card
1. Availability
The Plutus card is currently available only in the United Kingdom and the European Economic Area. Meaning that the vast majority of people are inaccessible to the card. Still, the team behind Plutus announced that the card is scheduled to be released in the US in the second part of 2023. Plus an international expansion is planned for the first half of 2024.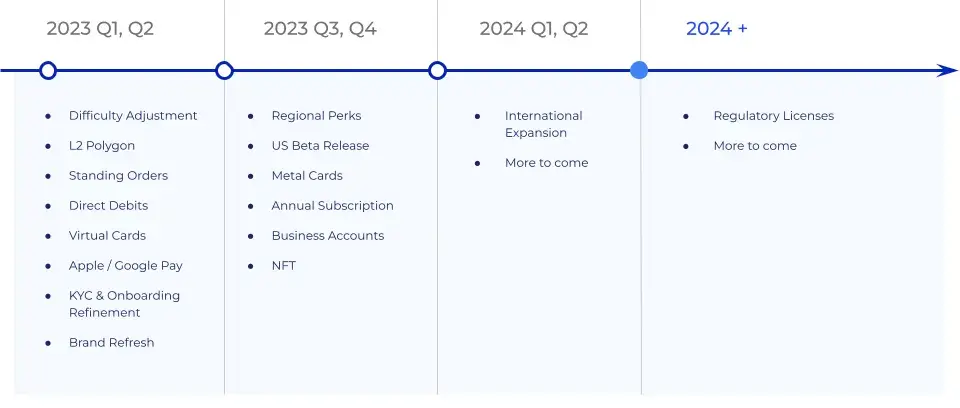 For an updated list of current eligible Plutus countries see here.
2. Account and card top up
Currently, if you want to use your Plutus card you need to send money to your Plutus account which could happen fast, or even immediately if you use something like Revolut to top up your account. After that, you have to move the funds from your app to the card in order to be able to spend them. And this shockingly could take up to 3 days. This is another thing that the team behind Plutus tries to fix, and in the next 2-3 months should no longer be an issue.
3. Mobile App and Desktop UX
Both the mobile app and the Desktop platform made by Plutus lack some basic features and are not really user-friendly. You can't even if and which perks you have used during a specific month. Yet, the team behind Plutus constantly works on that and improves the User Interface.
4. No Apple/Google/Samsung Pay option
Currently, you can't add your Plutus card to Apple, Samsung or Google Pay. This option is supposed to be added in the following months, plus if you use a Plutus card with Curve, as mentioned above, this issue is resolved.
5. Limitations on what can you buy
Not surprisingly you can't get cashback for literally anything that you buy with your Plutus card.
Some of the exclusions:
Deposits into accounts as card payments, like Revolut.
Money transfers to other individuals, like Paypal to Individuals.
Financial services where the money movement is the service.
Mortgage and loan services, like a house mortgage repayment.
Currency exchange services, like buying other currencies.
Investing in stock, bonds, or any other form of trade.
Purchase of high-value collectable items, collector coins or cards.
Precious metals or jewellery, like buying gold or silver.
Stored value products like gift cards, prepaid cards, and vouchers.
Crypto products or services.
Deposits or transfers into crypto exchange accounts.
Buying cryptocurrencies, NFTs, or services from crypto companies.
Gambling and lotteries.
Lotteries, including the national lottery.
Read more about that in the "Transactions not eligible for rewards" section.
Further, if you pay over €400-500 euro for something, you would probably be asked for a receipt by the Plutus team in order to receive your cashback.
Plutus compared with other crypto cards
If we have to make a quick comparison between Plutus, Crypto.com and Binance cards. Plutus is by far the best option at the moment. Binance offers no perks and though it also offers 8% cashback, you need to have 600 BNB for that (currently that's around $200K). With Plutus, you need 2000 PLU and that's around $20K. With Crypto.com you can get only up to 5% in cashback and for that, you need CRO worth $350K.
(Before the end of the next week we will add a more detailed comparison + a table).
Could Plutus crash?
Plutus has been live since 2015. Which is a ton of time for crypto. So this is definitely a good sign. Yet, if you have used or followed the CDC card (crypto.com) you know that if the card business model is not sustainable, then inevitably it would crash one way or another at some point. Currently, Plutus card still offers 3% cashback and 1 perk with their free plan which is surprisingly generous. So in case they run into trouble, the first feature to go would most definitely be this one.
The one-year chart of PLU in Coingecko shows that its value is not that volatile compared with other cryptos, even some of the most popular and liquid like Ethereum.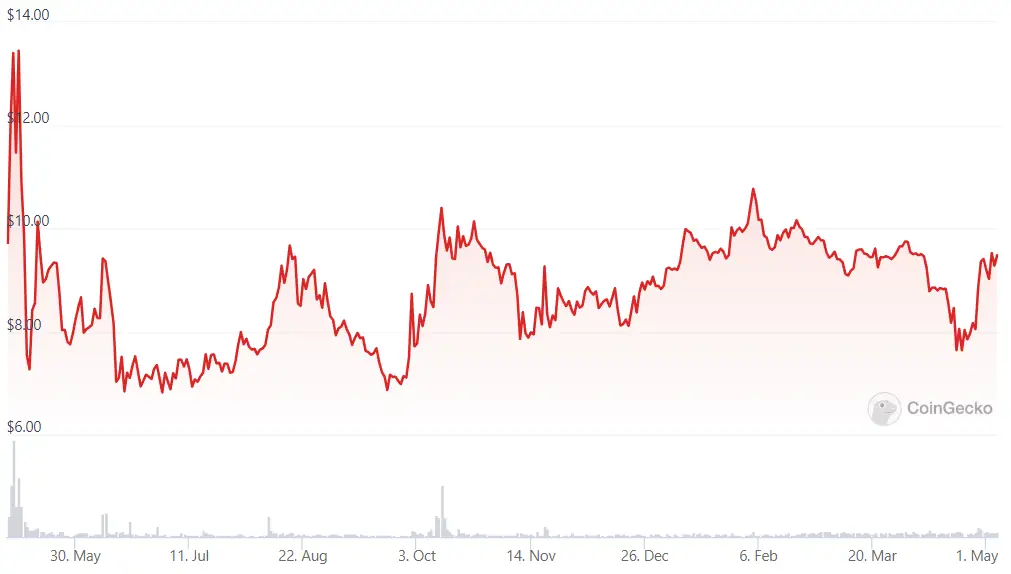 So if the team behind Plutus keep improving their service and especially the potential US and global market expansions could lead to a bright future for the card provider.  
What about the Tokenomics behind Plutus? Is it sustainable? Where do PLU rewards come from? Learn all about that from this comprehensive article.
Conclusion
The Plutus Card is a pioneering financial product that combines the best of both worlds: the convenience of traditional fiat payments and the benefits of cryptocurrency. By offering users the ability to earn crypto cashback on their everyday purchases, Plutus is helping to drive mainstream adoption of cryptocurrencies and reshape the future of finance.
Do we like it? Yes, absolutely. While still having many issues, that the Plutus team should work on, it is still a great card with perks and cashback that are hard to be matched by others. But as with everything else, DYOR and be careful. There is always a risk when we talk about anything related to crypto.
📕
If you would like to create a Plutus account, you can use this link in order to get a $10 bonus in PLU (We will also receive the same).
Useful links
Want to Keep Reading?