Top 7 Best Crypto Podcasts In 2023
How many of you have listened to astonishingly awful crypto podcasts?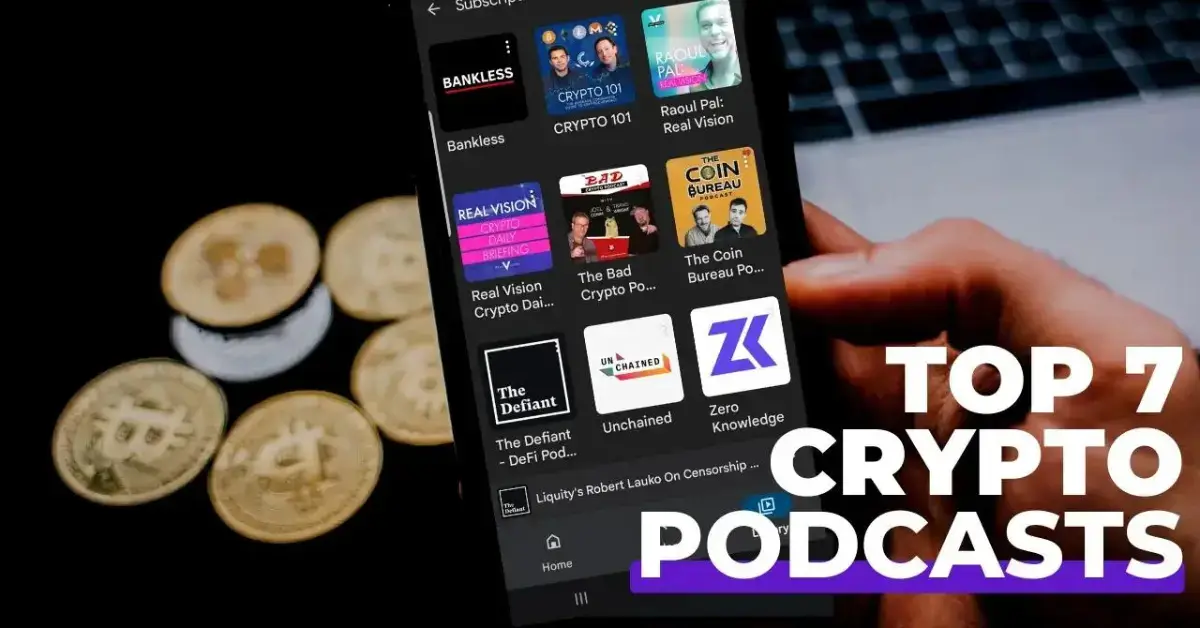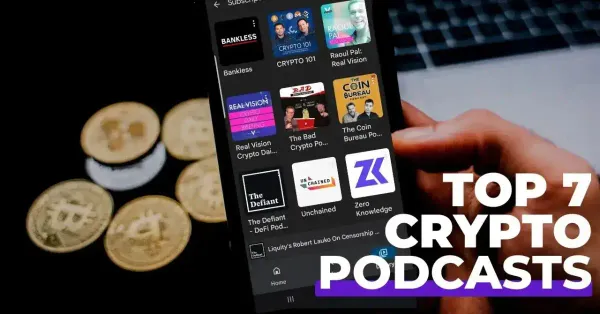 Please raise your hands: how many of you have listened to astonishingly awful crypto podcasts?
Nowadays, it seems like almost everyone has their own podcast, and for a good reason: podcasts are portable, simple, and easy to consume. They're also relatively easy to create and require little in the way of equipment.
Unsurprisingly the most practical way for many people to stay updated on the most recent news regarding cryptocurrencies is to listen to podcasts. Usually, they are available for free download, allowing you to listen to them even when there is no internet connection. Additionally, you can listen to crypto podcasts as you go about your daily business. Washing the dishes? Podcasts are perfect. You are going for a walk with your dog? Podcasts are another great companion.
Over the last 2 years, we've listened to 49 different crypto/blockchain podcasts in order to choose the best 7 +a bonus one. So you could easily try them out and see for yourself rather than choosing between a list of all these 49 podcasts, which is super time-consuming.
Our list has no meaningless, shilling podcasts. But it has not-so-popular gems that you won't find even in some top 30 crypto podcast lists.
Let's get right into it.
The Money Movement Podcast

The Money Movement is a highly informative crypto podcast, that analyzes and documents the concepts and possibilities guiding this new era of digital money. Jeremy Allaire,  co-founder, and CEO of Circle hosts the podcast. The company's goal is to increase economic prosperity on a worldwide scale by facilitating the frictionless transfer of money.
What is the podcast about? A significant transformation is taking place in the world economy. Business executives around the world are debating how to change their organizations to become more digital, adaptable, and effective. As we adapt to this transformation, a new global movement is growing around the promise of cryptocurrencies and blockchains. It is creating new opportunities for businesses and individuals worldwide while also forming a new architecture for the global economy.
The Money Movement podcast is exploring these new opportunities and presents them to you in an easy-to-comprehend and entertaining way.
As a practitioner and leader in the stablecoin sphere Jeremy Allaire, addresses contentious questions, offers novel viewpoints, investigates problems, and analyzes concepts that could boost economic prosperity on a worldwide scale.
Jeremy consistently brings on impressive guests and the debates are often fascinating. Examples are:
Exporting Economic Freedom with Brian Armstrong of Coinbase
Privacy, Regulation & Security of Digital Assets in Europe with Pascal Gauthier from Ledger
Bitcoin as an Economic Bedrock with Michael Saylor of MicroStrategy
Building Bitcoin as Sound Money with Dan Held of Kraken
Building A New Global Financial System with CZ of Binance
Check out The Money Movement podcast on Apple, Spotify, or Google Podcasts. You can also watch it on YouTube.
The Coin Bureau Podcast: Crypto Without the Hype

Hosted by Guy (Yep, that's his name), the Crypto Guy, Coin Bureau is a podcast that provides unbiased information about all things crypto. Guy digs deep behind the scenes to uncover the latest cool protocols, projects and investment tricks and offers advice on how to get the most out of your crypto experience. Mad Mike Mooch is usually the co-host and he helps the podcasts be beginner friendly by asking novice questions, and he is also quite entertaining. Crypto Without the Hype usually has two new podcast episodes a week.
What we especially like about it is that it is beginner-friendly, super fun to listen to, and quite educational. There are also some macro environment podcast topics that are really informative.
Some of coolest podcast episodes include:
Ethereum and Bitcoin foundation series
Why We're All in the Red: A Crypto Market Emergency Update
Crypto in the Eurozone and the BlackRock Report
A Post-Merge Post-Mortem
Proof of Work vs Proof of Stake and the Tornado Cash Sanctions
Check out Coin Bureau Podcast: Crypto Without the Hype on Apple, Spotify, or Google Podcasts. You can also watch Guy's YouTube channel, which gets new content even more often.
Raoul Pal: Real Vision

Raoul is one of the most experienced in the financial sector and crypto. Over the years, he has positioned himself as a top expert in his roles as Investment Strategist, Business Cycle Economist, and expert in economic history. So he is the go-to guy for the economy macro trends and not only.
In the Raoul Pal: Real Vision podcast, you can listen to the main lessons learned from Raoul Pal's interactions with some of the finest investors and thinkers in the space and beyond. These unmatched in-depth discussions shed light on everything happening in the cryptocurrency market, NFTs, and the world financial markets.
Some of the podcast episodes include:
Arthur Hayes Is the Macro King of Crypto
Raoul Pal on the Impact Theory Show
Why GameFi Will Be Crypto's Best Gateway
How the World's Fastest Blockchain Is Making the Future
Matthew Ball Explains Why the Metaverse Will Shape Everything
You can follow Raoul Pal on Twitter. And listen to his excellent in-depth podcasts on Apple, Spotify, and Google Podcasts. Further, you can listen to the other podcasts by Raoul Pal's Real Vision like Real Vision Daily Briefing: Finance & Investing, My Life in 4 Trades, Real Vision Crypto, and The Next Big Trade here.
Unchained

Unchained is a top-quality crypto podcast in which listeners get unbiased news and perspectives as journalist Laura Shin speaks with leading figures in the field. Shin's podcasts are more interviews than personal thoughts, allowing her audience to listen to the most recent opinions from influential figures in the crypto world.
Shin has been involved in the cryptocurrency industry for a while as a former senior editor at Forbes and one of the first mainstream journalists to cover cryptocurrency in-depth. She also has impressive credentials (degrees from Columbia and Stanford), making her a reliable and knowledgeable source for news on cryptocurrencies. Laura Shin is surprisingly a nocoiner, which means she doesn't invest in Bitcoin or other cryptocurrencies.
The podcast explores a wide range of web3 subjects and is not restricted to any one blockchain in particular. For instance, it delves into both Ethereum and Bitcoin. In addition, the show highlights guests that are actively contributing to the blockchain community, code base, and regulatory issues. These guests include Vitalik Buterin, the founder of Ethereum, Binance's CEO - CZ, and many other top blockchain entrepreneurs and industry leaders. Finally, even for newcomers, there is a tremendous range of episodes, such as their series on "How to Explain Cryptocurrency to the Average Person."
Unchained features conversations with notable experts and practitioners every Tuesday. In addition, it has a segment called "The Chopping Block" every other week, where four early-stage cryptocurrency investors discuss the most recent developments in the sector. Finally, on Fridays, it summarizes the week's happenings and has a Q&A for the week's biggest stories.
Check out Unchained Podcast on Apple, Spotify, or Google Podcasts. You can also watch it on YouTube.
The Bad Crypto Podcast

Believe it or not, The Bad Crypto Podcast is surprisingly great regardless of its name. It is even actually one of the best podcasts for beginners seeking to enter the crypto world. Learn the world of cryptocurrencies and blockchain technology with the guidance of blockchain-savvy hosts Joel Comm and Travis Wright. The two crypto-enthusiasts are both profoundly knowledgeable in blockchain technology, so they can be trusted to know what they are talking about.
This podcast explores the inner workings of different blockchains as Bitcoin and Ethereum, but also other layer 1 and 2 blockchains. Furthermore, learn more about the best and most popular altcoins, NFTs, and other crypto-related topics.
The podcast uses self-trashing humor and puts forth information lucidly, making it easy to grasp. This audio show presents material clearly and with self-deprecating humor, making it incredibly simple and fun to understand.
Amazingly, the Bad Crypto Podcast has more than 700 episodes that last between 20 minutes and 1h and 20 minutes. Unlike the other podcasts you've seen in this article, this one is maybe even better off starting at Episode 1 than on the most recent one. And is one of the very best choices if you're new to cryptocurrency.
Listen to the fun and informative The Bad Crypto Podcast on Apple, Spotify, or Google Podcasts. You can also watch it on YouTube.
Bankless

Bankless is by far one of the most popular crypto podcasts. Focused mainly on Ethereum and its ecosystem of DeFi and NFT projects. Further, it discusses regulations, web3, and the metaverse.
The podcast creators have one main mantra they are spreading - We Should All Go Bankless. "There's a revolution in the world of money. Ethereum, Bitcoin, crypto, open finance, DeFi—a bankless revolution. And you want part of it."
The podcast is super informative and one of the most professionally created ones.
Its hosts Ryan Sean Adams and David Hoffman are a unique mix of approachable, passionate, and committed individuals who aren't overly bro-ey. They raise the standard for crypto knowledge, presentation, and concept explanation with their high level of research and the way they present it. Additionally, the Bankless hosts are not overly antagonistic to the other layer 1 despite being very strongly ETH-centered and decentralization-focused, which means they speak the Crypto Fireside precise crypto language.
While not with direct investment advice, the authors support their claims with evidence and a range of viewpoints.
The biggest crypto stars are guests like Vitalik Buterin, CZ, Brian Armstrong, Erik Vorhees, Justin Drake, Ameen Soleimani, Arthur Hayes, Polynya, and even the digital marketing star and NFT enthusiast Gary Vee.
Listen to the fantastic Bankless podcast on Apple, Spotify, and Google Podcasts. You can also watch it on YouTube.
Crypto 101

Are cryptocurrency concepts too complex for you? Here is yet another award-winning crypto podcast for those of you, especially those who want to start from scratch. You can get all the information you need about cryptocurrencies and the blockchain from Bryce Paul and Aaron Malone. Bryce, a developer of cryptocurrency businesses, and Aaron, a crypto advisor, demystify and explain complex concepts from the blockchain universe. The pair has co-hosted more than 480 Crypto 101 podcast episodes and published a book in 2019 called Crypto Revolution.
The average person who wants to join the cryptocurrency craze but is confused by all the technical jargon and financial slang is the target audience for Crypto 101. The hosts invite speakers from the cryptocurrency community to simplify complex concepts into ideas that novice investors can easily implement. The 25–55 minute-long explainers on blockchains, financial contracts, and cryptocurrency trading are worth listening to.
The podcast covers a different cryptocurrency-related topic in each episode. In addition, guests who can give you an inside look at blockchain businesses, cryptocurrency research, and more are featured in some episodes.
You can find Crypto 101 on Apple, Spotify, and Google Podcasts. Prefer YouTube? You can watch this podcast there, too.
Bonus one 👇
The Defiant - DeFi Podcast

Blockchain technology is being used to create the internet of money without the use and need of banks. As you probably already know, it is called DeFi, short for Decentralized Finance, and the Defiant podcast is where you can hear the builders and users of this cutting-edge world tell their stories firsthand.
Camilla Russo is the host of the podcast. She became famous as the author of The Infinite Machine, a fantastic page-turner book on the history of Ethereum, published in 2020. She is also the founder and CEO of The Defiant, a media focusing once again on DeFi.
Because of her extensive industry knowledge and journalistic background, Camilla can ask insightful questions that shed light on a particular cryptocurrency project while also helping us appreciate its distinctiveness and importance within the larger crypto landscape.
It's clear that Camila puts a lot of effort into each and every episode. Further, if you compare her skills in the first episodes with the last, you can see how much she has improved. But what makes this podcast a strong standout are the top-tier guests, the insight they share, and the strategies they bring to the table.
Some top-quality The Defiant - DeFi Podcast episodes include:
Liquity's Robert Lauko On Censorship And Building A Fully Decentralized Stablecoin
Stani Kulechov on Building a Social Network for Web3, so Users are Not the Product
Cosmos Co-Founder Ethan Buchman on Building an Internet of Sovereign Blockchains
Zeneca: "The Market is Fed Up With the Same Sorts of NFT Projects and There's a Flight to Gaming NFTs"
Check out The Defiant - DeFi Podcast on Apple, Spotify, or Google Podcasts. You can also watch the episodes on a playlist on their YouTube channel.
Conclusion
The best crypto podcasts are the ones that are highly informative and interesting and provide insights from the industry. Although there are many other shows, we felt that the ones mentioned above were the best in this regard.
There are numerous crypto podcasts available, each with something unique to offer. They are simple to fit into your daily commute or elsewhere, with average times between 20 and 90 minutes. If you want to broaden your horizons and learn more about crypto, definitely give them a try.
Did we leave out any of your favorite podcasts about cryptocurrencies? Post a comment and let us know. We'd love to update this list of cryptocurrency podcasts with your suggestions.