How to Buy Monero (XMR) Anonymously
Monero has a "privacy by default" policy making it a much safer and more secure network. Find out more on how you can buy the coin anonymously.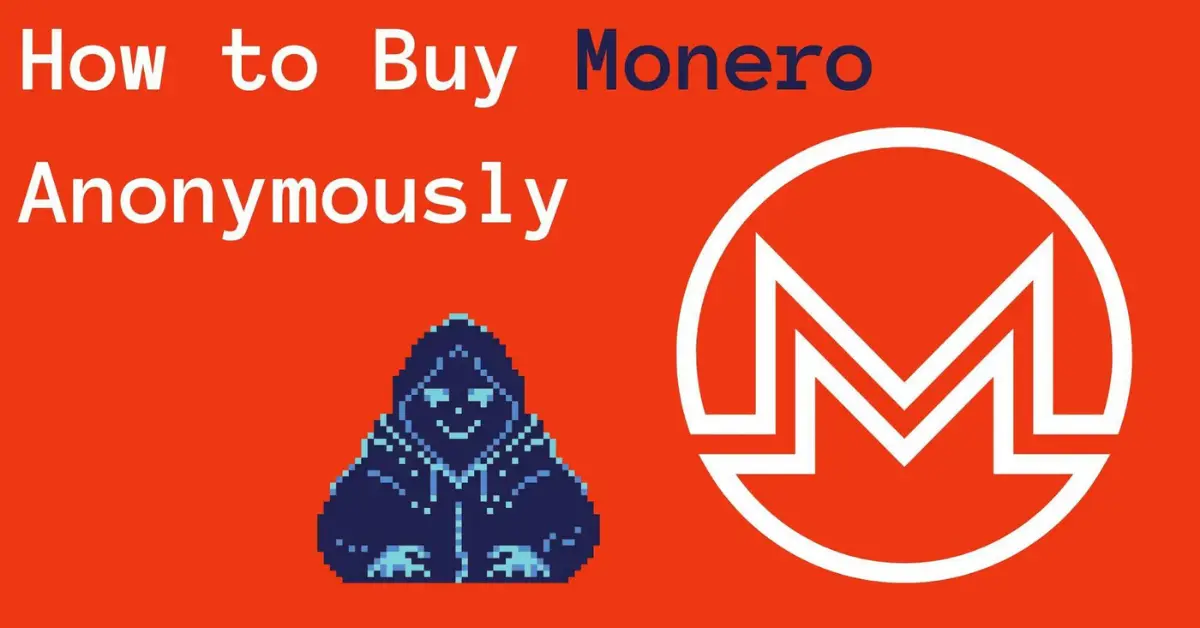 You could be using pseudonymous addresses to make crypto payments online. But no matter how anonymous they are, anyone can track your online transactions because of blockchain's nature of storing data on a public ledger.
Below, We'll Show You How to Buy Monero Anonymously but First Some Background Info
Some of the most widely used digital currencies on the market operate on a protocol that uses pseudonymous addresses to conceal the identity of participants in a transaction. These pseudonyms are made up of a random combination of numbers and alphabetic characters.
However, because these addresses and transactions are registered on the blockchain, they are publicly accessible. Even supposedly anonymous addresses are not entirely private. A few transactions carried out by a user over time can be linked to the same address, giving access to the address owner's patterns and identity.
Monero, on the other hand, employs a "privacy by default" policy. Its transaction history can't be found, making it a much safer and more secure network for everyone who uses it.
The Monero network uses the Ring Signature Confidential Transaction (RingCT) technique and stealth addresses to keep users' information and activities private. A ring signature is a unique digital identifier created for a specific group of users on the Monero network that helps obfuscate the identity of the person making a transaction and the amount they transact.
Stealth addresses provide extra privacy because they are generated randomly for each transaction on behalf of the recipient. When stealth addresses are used, the transaction's actual destination address and the recipient's identity can both be hidden.
Why Use Monero Over Other Cryptocurrencies?
The safety of users' data has been a great concern in this new age of the internet.
Advertising has advanced from the traditional marketing techniques of posters and roadshows to now digital methods where marketers can reach out to an infinite number of people just by pressing a few buttons on the computer or phone.
Despite the diverse benefits of digital marketing, the tech giants of most social media platforms have been known to sell users' data to the highest bidder. Facebook and Google have been involved in such cases relentlessly over the past decade. Instances like these make people wary of the details they share online. For that matter, it's why Monero is a favorite crypto to folks who like to keep their transactions private.
Monero (XMR) is one of the top open-source cryptocurrencies that prioritizes privacy. Its dev team purposely designed the Monero blockchain to complete transactions as anonymously as possible hence the name "privacy coin."
Controversially, the tamper-proof anonymity of Monero has rendered the coin more appealing to fraudsters looking to do illicit transactions. As a result, government states in various jurisdictions have imposed sanctions on its network. Worse, the recoil effect of these sanctions have prompted several exchanges to delist the coin.
These adverse outcomes have made it tough for new investors to purchase the coin, let alone obtain it anonymously. Well, if you are determined to get yourself some Monero discreetly, you are in luck. Below are easy-to-grasp steps you can follow to buy Monero anonymously.
How to Buy Monero Anonymously Using Crypto Exchange Platforms
An option for anonymously purchasing Monero is using a traditional style of exchange platform but importantly one that does not have Know Your Customer (KYC) requirements. Of course, many crypto exchange platforms do not offer anonymity benefits. However, a few of them do. Among them include;
Crypton exchange. The Crypton exchange is one such crypto exchange offering anonymous options. This platform provides services with absolutely no KYC. Hence making every sale, purchase, withdrawal, or exchange private.
Cryptex exchange. Cryptex is another platform designed to help investors purchase Monero anonymously. It offers natively obscured blockchain-based transactions hiding information such as the sender, recipient, and amounts. While the exchange does ask for email and postal address it does not require a standard KYC check.
TradeOgre exchange. This is another exchange where you can use popular cryptocurrencies such as Bitcoin and the stablecoin USDT  to purchase Monero (XMR). TradeOgre also has no KYC requirements.
Exchanges are plentiful and finding one that offers Monero (XMR) as an option and does not demand KYC information can be challenging to find. Another option that can be used to search for viable options is a service called KYCNOT.ME. This website offers the user the ability to filter the results of non-KYC exchanges by the XMR currency.
Caution: Some users of these exchanges have reported that their Bitcoin wallets and address have been flagged as potentially "dangerous or dirty" and their accounts with other popular exchanges have even been shut down. Like with anything in this space, do your research and be cautious.
Peer-to-Peer Exchange (LocalMonero)
There are tons of exchanges available today offering XMR purchases. However, not all of them offer the anonymity advantage and because you are dealing with an exchange, that exchange may one day be targetted by authorities for reasons we may only speculate about currently.
So, what other crypto exchanges or platforms allow you to buy Monero anonymously?
The easiest ones to work with are peer-to-peer exchanges. One very popular peer-to-peer exchange available for Monero is LocalMonero. This exchange platform allows investors to buy the coin directly from the seller with no KYC requirement on the platform that is hosting the communication between the two parties.
Here is how to purchase XMR from LocalMonero anonymously along with some other tips and tricks if you decide to use one of the other non-peer-to-peer exchanges mentioned above;
Step 1: Identify an Anonymous Wallet
The first step toward purchasing Monero is identifying the right wallet that provides anonymity.
You need to do this before you use LocalMonero or your chosen exchange. It would help if you had a crypto wallet with robust encryption algorithms and security to maintain anonymity.
Many crypto wallets could handle anonymous purchases of XMR. One of the most trusted wallets is Ledger Nano X, a hardware wallet. Ideally, selecting this wallet gives you a combination of anonymity and security. Do note however the Ledger data breach in 2020.
Other wallets offering safe Monero storage include Trezor, Monerujo, Ledger Nano S, Cake wallet, Exodus, and MyMonero.
Caution: If at any time you provide an address, email, name, phone number, or any other personally identifying bit of information the transaction may still be anonymous but not necessarily your ownership or control of the wallet.
Another great wallet option is to use the Monero GUI or CLI wallet from GetMonero.org. For added security, use a VPN when downloading.
Step 2: Identify your Monero Address
The second step is identifying your Monero address from the wallet you have just set up. You will hold your XMR in this once you complete your purchase or exchange. Make sure to handle your wallet address with utmost care to avoid security breaches.
While each wallet will be different, most often, after setting up, there will be an option "receive" your Monero and this option (or similar) will provide you with your address.
For more information on Monero addresses read here.
Step 3: Log In to Your Account
This depends on the exchange you chose earlier.
The most commonly advised platform is LocalMonero and because this is somewhat of a LocalMonero guide we'll continue.
LocalMonero as already advised is a peer-to-peer platform with almost no 3rd party interference. You should log into your LocalMonero account, fill in the password, and complete the necessary 2FA. LocalMonero has a time-based one-time password algorithm that functions almost as well as a generic 2FA.
Step 4: Search for Monero Vendors
As discussed earlier, LocalMonero is a P2P exchange for the XMR currency. Hence, you are directly trading with another trader and not the platform itself. The platform is simply a marketplace of sorts. You need to identify the most trusted trader, one with many purchases and affordable prices. If a trader appears to be new in the market, you should be very cautious while working with them.
If working with a centralized exchange, you search for Monero and start the trade.
Step 5: Start a Trade
Since you are buying, place an order with the seller. The seller will respond and put the XMR in a secured escrow with LocalMonero. Escrow will only release the Monero to your wallet once you pay the seller and he or she confirms the payment has been received.
In a centralized exchange, once you select the coin and choose the payment or exchange option, you need to complete the payment or exchange for the funds to be credited into your wallet which is usually held with the exchange for the moment.
Final Step: Transfer the XMR to a Secure Wallet
Since you have bought or obtained the coins using the exchange wallets, you now need to transfer the amount you want to a secure wallet. Ledger Nano X, the GUI or CLI wallets, mentioned in step one, are the most secure wallets available in the Monero world. And the most anonymous by default.
Depending on the exchange used, most will have the option to "withdraw" or in the LocalMonero example they use a function called "send". You simply select this option and follow the process which usually requires an amount to be selected, confirmed and security credentials entered.
Swap Cryptos for Monero
Of course, as mentioned earlier, there are many ways to obtain Monero anonymously. The LocalMonero route seems like the most popular methods used.
However, another option is swapping one of your other crypto assets for Monero. For instance, you can swap BTC, ETH, or other coins for Monero. But how? You start by buying your BTC from a trusted crypto exchange platform like Binance, Coinbase, or even LocalCryptos. You cannot remain fully private when buying BTC since it's not an actual privacy coin.
After buying your BTC, you can now swap it for Monero. A good option allowing investors to Swap cryptos for Monero is StealthEX. As the name suggests, StealthEX is a stealth crypto exchange platform offering limitless Swaps. It will enable you to swap many crypto assets available within their offerings, including BTC, XMR, and ETH.
In a previous version of this post, we had listed Changelly as an option for swaps however based on readership comments and some further investigation we have since decided to remove it due mostly to concerns around their AML & KYC policy.
Note: Make sure you have received the funds in your wallet after purchasing the coins. If the value doesn't match the coins you had intended to buy, don't confirm the transaction and contact support immediately. Since the entire process of buying Monero is executed anonymously, investors are encouraged to be more careful.
Other Noteworthy Mentions?
Bisq is definitely another option for getting Monero anonymously. Bisq is similar to LocalMonero in that it is a peer-to-peer exchange with the main difference being that it is a decentralized exchange.
There is no KYC requirement with Bisq, no identity verification, and the code is open source. Many users report having had great success with Bisq.
Note: At the current time of writing there appears to only be one XMR market. This market is for Bitcoin (BTC) and Monero (XMR) which means you need to have BTC in order to buy XMR.
Author's Final Note
The exciting idea of cryptocurrencies is their ability to complete online payment transactions anonymously. But as earlier mentioned, the blockchain networks of most cryptos record data that gives the transaction history of the said wallet address.
Dubbed a 'privacy coin', Monero's protocol emphasizes privacy, thus allowing its users to make online transactions anonymously without worrying whether their data is leaked.
Needless to say, buying Monero anonymously adds another layer to the privacy already presented by its network. However, let's not forget that the privacy features have put XMR in the crosshairs of law enforcement agencies, making purchasing Monero cumbersome.
Want to Keep Reading?
Want to know how you can support Crypto Fireside?
Sign up below. It's free, it's easy, and it allows you to comment and join the discussion 🔥