Creator Tokens Are About To Explode
🔥Crypto Fireside #14 — Interviews with crypto people.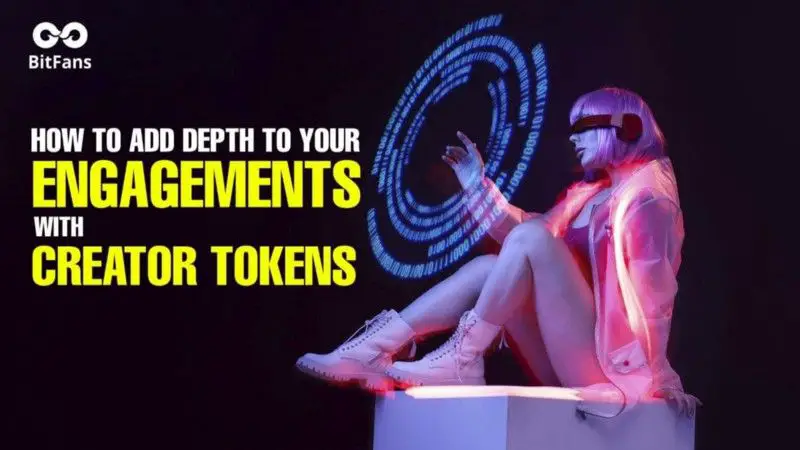 🔥Crypto Fireside #14 — Interviews with crypto people.
🔥Hello! Who are you and what do you do?
AK: I'm Anthony Kang, Co-founder, and CEO of an Australian company called BitFans. Our platform allows anyone who has a fanbase, customers, followers, or any form of an audience to create digital tokens for their brand and sell those tokens to their fans. They need to attach special benefits and perks for token-holders so that the tokens are worth buying.
Our vision is relatively straightforward, and we want to create worldwide adoption of the BitFans platform. We plan to accomplish this via our platform by serving influencers, celebrities, businesses, brands, and organisations who want to mint their own creator tokens and allow their followers/audience/community members to buy and hold these tokens on our marketplace.
We are one of the first companies in the world to offer this service. We are very proud to represent Australia and contribute to the growth of the tech sector here.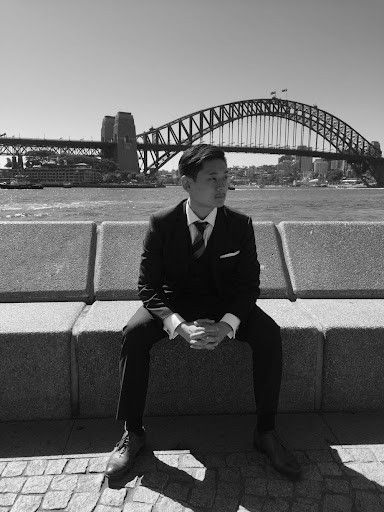 🔥What's your backstory, and how did BitFans come about?
AK: So my career background is within consulting, specifically business development. I've worked in tech and finance for the last five years. The tech company I worked for helped large organisations with improving their corporate cultures.
Previous to that, I worked for a private investment fund acquiring elderly care facilities around Australia.
And before that, I worked as a Headhunter, recruiting senior IT talent.
Regarding the Origins of Bitfans? During the onset of COVID-19, I began to notice that many people struggled with navigating through the "new world" that the pandemic introduced. Everyone from businesses to not-for-profit organizations, online community groups, musicians, gamers, and influencers began to lose their incomes along with physical access to their communities. This new paradigm forced these groups to ramp up their digital brand-building strategies and utilize all available technologies to adapt to the changes brought about by COVID-19.
Creators who started to ramp up their content production on major platforms encountered highly restrictive policies and hefty platform fees. They began to see a large group of competitors emerging.
After witnessing the rapid shift of the digital landscape unfold before our eyes, my cofounder and I saw this as an opportunity to develop a technology that could solve these problems for content creators.
BitFans recognized that providing a solution where creators could "tokenize" their brands would allow them to use digital tokens as a new method of monetizing their communities while forming a mutually beneficial relationship that had never been possible before.
This new symbiotic relationship could help keep creators and their communities permanently connected, regardless of geographic location or potential de-listings on social platforms. All this while providing a new tool for creators to engage and collectively stand out to their new token holder community.
Many blockchain projects, past and present, primarily emphasize the importance of the network effect (an effective strategy for fast growth where users refer people within their networks to come and use the technology).
The BitFans platform genuinely takes advantage of the network effect by providing a genuine use case for creators with existing followings/communities to sign up and tokenize their brands. This use case results in the creators being able to incentivize their audience to purchase and hold their tokens.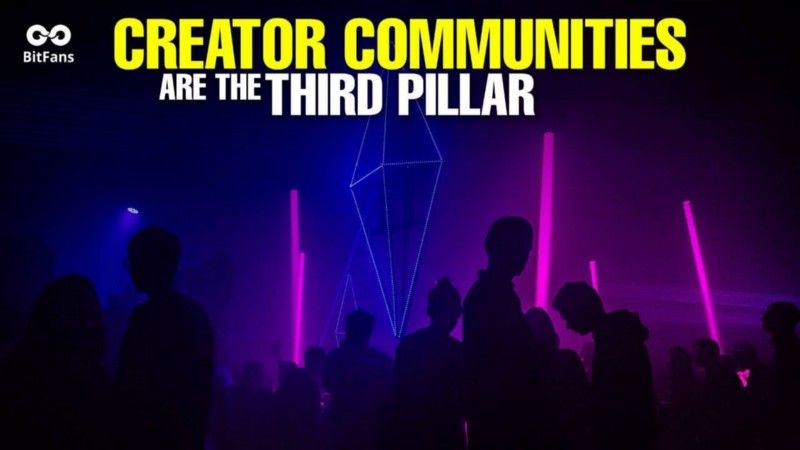 🔥Describe the process of building BitFans.
AK: The BitFans team is currently in the final moments of prelaunch. We're preparing to launch in September 2021. Our strategy has targeted creators and brands with passionate communities who could take advantage of fan/community tokens.
We have placed a lot of emphasis on education and provided insightful content across our social media channels. Often when one hears of Crypto, they associate it with all the FUD that's around it. That's why we approach it as a content-agnostic platform (to be fair to everyone on the platform) and keep the focus on community needs, whether they be educational or platform-related.
I was blessed to work with and learn from some of the top CEOs in our country. I realized that I had to hire a diverse team of self-driven individuals with years of experience in the startup and creative industries because they intimately understand the pain points modern creative minds face. And so that is what I did.
We have already grown into a team of 10 within the first few months after launching the business.
Ultimately a value I look for in every team member is a contribution mindset. They recognize that this is the foundation to build our business and we must adopt and maintain a customer-centric mindset with how BitFans serves our token creators and their followers.
We've already signed up 15 brands/creators during our prelaunch phase, ranging from local businesses and influencers. We've just started our prelaunch sales and marketing plan. We are already in discussions with many influencers, talent agencies, and companies as we are now focusing on signing up creators in anticipation of the launch of our platform.
BitFans is a founder and angel investor-funded technology company. We are hyper-focused on releasing our MVP (v1.0 of our platform in September).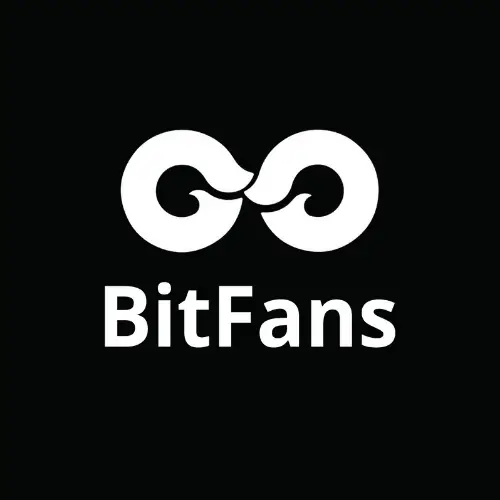 🔥How does your service compare to something like BitClout or Patreon?
AK: For this question, we have a section in an article that explains it:
Social Tokens
Personal  Alex Masmej
Community  DAO's
Brand  Lil Yachty
BitFansCreator Tokens
All of the functionalities are baked into one, meaning that as a creator on our platform, you are essentially tokenizing not only your own value, but the value of your community as a whole. With voting tools, your community members could play a part in important decision making processes to align both creative and economic interests. By introducing incentives to hold or utilize the token within your digital economy, you are promoting growth not just for yourself, but for your members as active participants and co-owners of your brand's community."
🔥A friend of mine is The Aussie Armwrestler. He's a rising YouTube personality. How do you onboard a guy like him, and let's assume that he's not that crypto-savvy?
AK: The good news is our platform will be super simple to use. In this example, your friend and our users need to head over to our website and create an account.
We perform a 'know your customer/KYC check' on him to ensure he is who he says he is.
During his profile creation, he needs to create his tokens. He can pick how many he wants to make and what price they will be worth each.
The only semi-complicated part is downloading a Google Chrome extension app called Metamask.
He needs to open Metamask and use the payment option directly to buy Ethereum (to cover the transaction fees when his fan/community tokens are minted on the Ethereum mainnet).
Then he connects his Ethereum Wallet to the Bitfans platform, and he can complete the creation of his tokens. His tokens will arrive in his wallet on the Bitfans platform.
That is it!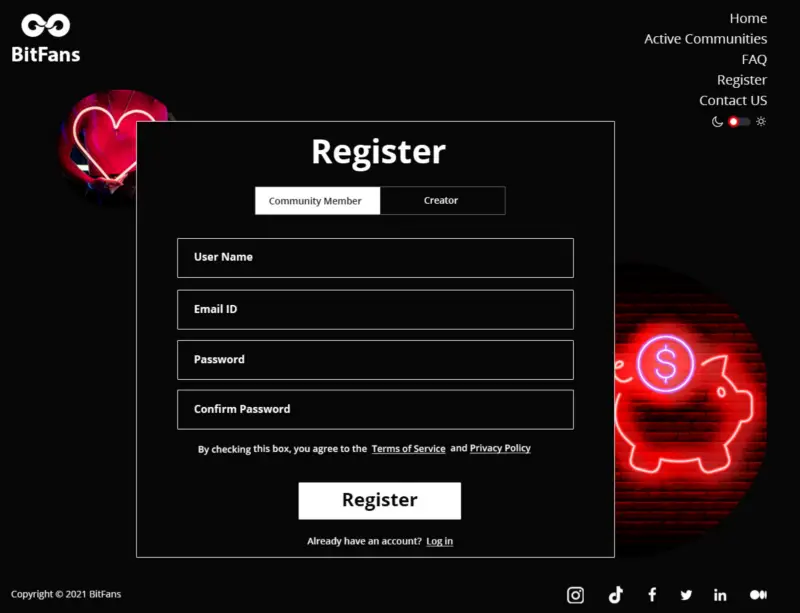 🔥Take us through the process of what it is that you do day-to-day.
AK: For me, my whole day, from when I wake up to when I fall asleep, is developing BitFans into the premiere platform for creators and their communities. This means checking in with my team, creating/recording content, meeting with creators/brands, working on branding, market analysis, furthering the platform development, and negotiating deals with our partners.
I've built a team of passionate individuals aligned with our vision and who understand the expectations of the high-performance culture at BitFans. This helps me efficiently tackle my daily tasks and provides me with peace of mind that creators and their communities are always kept at the forefront of the platform during development and beyond.
The biggest challenge for us has been the pace at which we educate our audience. Crypto can be overwhelming. Instead of adding to the fire, we remain neutral and educate them through socials one day at a time. We also provide a more nuanced view through our engaging articles on Medium and LinkedIn for those that want to delve deeper into nuances.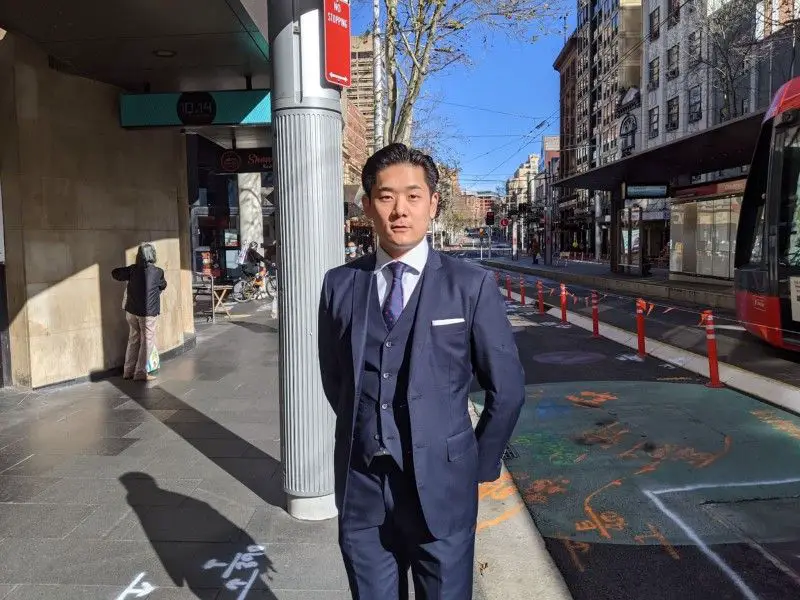 🔥Since entering your prelaunch phase of BitFans, what has worked to attract users?
AK: We are fortunate at BitFans because when you're one of the world's first, you find people that are filled with excitement and hope for a healthier, more connected online space. This makes attracting users a bit easier, especially with our creator/brand-first mindset. That is, in my opinion, how you get Crypto into mainstream consciousness by genuinely making a difference in communities that we plan to host.
The Crypto space, regardless of what mainstream perception is, has been incredibly supportive so far. Thus, we feel BitFans' strategy is best spent supporting the adoption of Crypto by showcasing its real utility on our platform. I am incredibly excited to see what creatives and brands do with this newfound tool; we're essentially making the internet more participatory instead of relying on one-sided parasocial relationships. It's those communities that are birthed from quality content that reminds us of the original beauty that the internet had in its early days when it was an extension of human interaction.
That's why our content pillars center around creators, communities, and brands, with Crypto as the engine that allows them to connect rather than highlighting Crypto itself. Those who are more interested in Crypto can check out our whitepaper to satisfy their curiosity and educational content. Still, the focus remains on literal application rather than abstract use cases.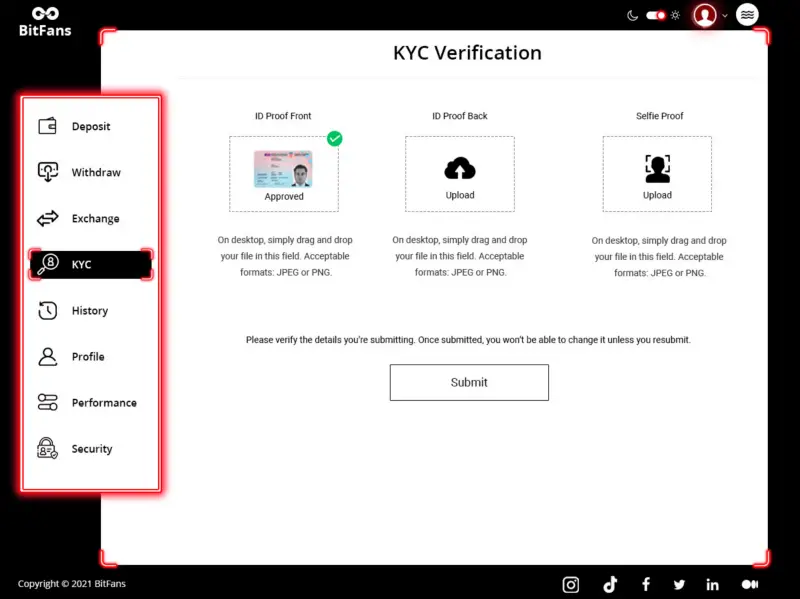 🔥How are you doing today, and what does the future look like? Let's talk numbers!
AK: Our sales process has only recently begun. Almost every creator we have spoken to has seen the benefit of digital tokens for them and has signed up. We already have 15 creators signed up who are ready to mint their tokens. This is before we've done any actual sales and marketing (which is just beginning now). It's fantastic to see them just getting the benefit of releasing their own fan/community tokens.
We want to get to our first 200 creators before the end of the year. Our five-year vision is to build BitFans into a $1B market cap company. One of the only and largest companies in our new industry was able to build a $2B company within three years, which is quite remarkable. We think digital tokens will change the world as we know it. We are happy to see that there are 2–3 other companies in the world who are helping to bring more exposure to the world of fan/community tokens.
🔥Through building BitFans, have you learned anything particularly helpful or advantageous?
AK: We're in the early stages, and it's been a fantastic learning experience thus far. It's allowed us to gain insight into the various problems faced within the industry of creators and businesses trying to consistently stand out from the competition and adopt the latest technologies to build their brands.
ATM, the industry of digital tokens, is exploding. One type of token that exists is NFTs, and there is a lot of hype and craze within that industry at the moment.
The most significant personal learning experience is around the nature of hiring and the team within a company. A business is essentially a collection of individuals who form a team. When you get the right talent attached to the right strategy + vision, everything else flows from there. I look for people who are committed to the vision, understand high-performance culture expectations, value independence and not being micromanaged, and are willing to work hard. Because in return, they benefit from the growth of the business.
I anticipate that BitFans will rapidly scale from our team of 10 currently to 100 team members over the next 12 months.
🔥What platforms and tools do you use for your business?
AK: We use a combination of tools. We use Slack as the team chat/team communication tool.
We use Zoom calls to check in on each other and simulate an office environment at times.
We use Trello to keep on top of current tasks and who is doing what.
We also utilize a daily stand-up meeting structure where the team can check in once a day and connect.
From a social media standpoint, we are on essentially every major platform such as Instagram, Twitter, LinkedIn, Tiktok, Medium, Quora, Reddit, YouTube, Telegram, Discord, etc…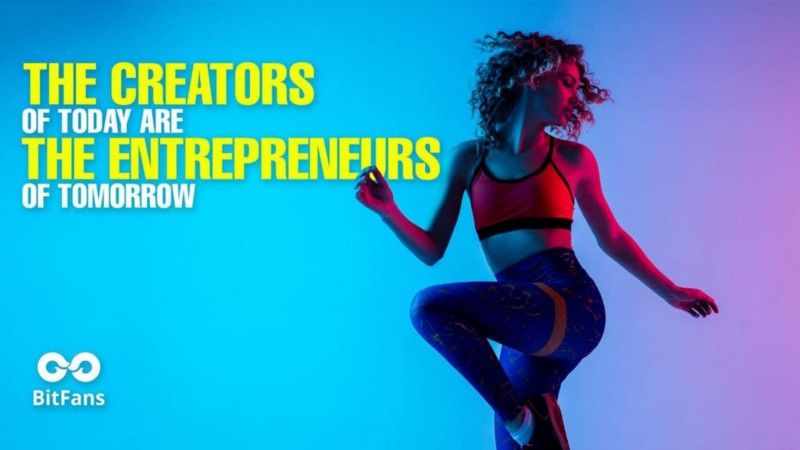 🔥What have been the most influential books, podcasts, or other resources?
AK: I love to continually try and evolve and become the best version of myself that I can be. I am very fortunate to have advisors and mentors who have taught me a tremendous amount about leadership, management, high performance, self-awareness, communication, negotiation, business development, product development, and more.
Some of the podcasts I like to listen to include Lex Friedman, GaryVee, and Masters of Scale with Reid Hoffman.
Some gentlemen I genuinely admire are individuals like David Rubenstein, Masa Son, Henry Kravis, and Jeff Bezos.
🔥Do you have any advice for other creators, entrepreneurs, or developers who want to get started or are just beginning?
AK: One thing I'd like to say to new content creators is to stay authentic. The world of how value is perceived is changing rapidly, but one thing that will remain in scarcity is authenticity and being yourself. Don't shy away from being yourself when talking about your projects. The audience will come for the content, but they will stay for you. If you shy away from being a little vulnerable, then they never had the chance to get to know you in the first place.
As for general life advice, self-awareness and learning about who you are and what you genuinely like and don't like (this part is vital) are essential to living a happy life.
Life goes quickly, and we will all eventually run out of time. Try your best to take the courageous path, from small daily decisions to larger life decisions. Regret is the worst poison you want to be left with at the end of your life. As we say in Australia, "have a go!" because the very act of trying is a whole lot better than not trying at all and being left with 'what-ifs.'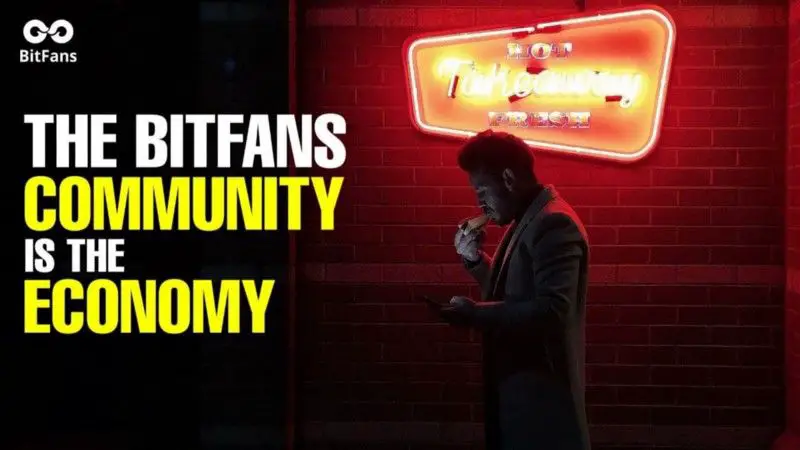 🔥Where do you see this entire Crypto and decentralization space going in the next 5 to 10 years?
AK: To quote another of our own articles:
"One thing that blockchain startups and traditional businesses have in common is that they rely on the network effect. It means that in order for them to succeed, there must be a point of critical mass or adoption which would allow the business to earn significant revenue to continue to improve the product as they scale. This is also the reason why many of the ICO-backed projects launched back in 2017–2018 are having difficulties gaining their footing.
Because Crypto was becoming so popular at that time, people felt inclined to be a part of that ecosystem one way or another as early adopters. The focus back then was all about marketing the technology, but very few individuals (VCs, Fund Managers, Experienced Stocks Investors) actually assessed the difficulties of pulling off projects of the magnitude they were played up to in their whitepapers. The aftermath of this era will be something that will be remembered as one of the major catalysts for turning things around in the industry."
I'm confident that we will see exciting innovations pop up in the near future, but none with more potential than the applications found in the Creator Economy. The concept of ownership within a community, having a voice, and benefiting from the growth of supporting each other is relatively simple to understand and is a real pain point in society today. I think it will serve as one of the main driving forces behind the eventual mainstream adoption of technology which will help people embrace decentralization.
Unlike other platforms with complex mechanisms, we aren't necessarily trying to reinvent the wheel. It's just a great way to introduce people to Crypto, its benefits, and even its pitfalls. People are more inclined to discover tools for play rather than work, so this is perfect for that audience. Whether our users are new to Crypto or not, we know that consumer bases exist within creator communities. All we're doing is filling gaps in that industry to the best of our ability. With BitFans, we aim to unlock the true value of content creators and develop an ecosystem where all participants are exposed to the upside of a brand.
🔥Thank you, Anthony!
Want to know how you can support Crypto Fireside?
Sign up below. It's free and easy 🔥.