MyConstant - A Crypto Lending Platform that Pivoted to Deliver $2.5m in Interest With CEO Zon Chu
🔥Crypto Fireside #43 — Interviews with crypto people.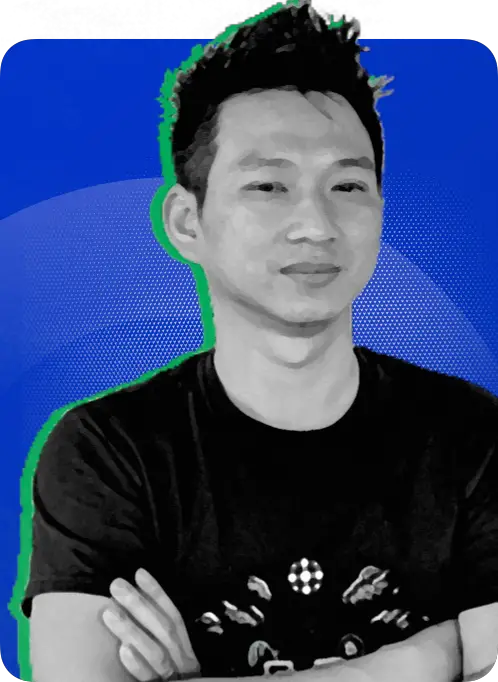 🔥Hello! Who are you, and what do you do?
ZC: Hey - thank you for having me! I'm Zon Chu, CEO of MyConstant - a platform where you can trade, lend, and borrow using your digital assets. My job is to basically make sure everyone has what they need to succeed and push the company forward. And it seems to be working!
Since we started out in 2019, we've served over 200,000 customers, handling more than $180m in investments, and delivering $2.5m in interest. And the best bit? No investor has lost their principal with MyConstant (Touch wood!)
🔥What's your backstory, and how did MyConstant come about?
ZC: Before we set up MyConstant, I spent 11 years as a full-stack developer, project manager, and technical director for e-commerce and social network companies in Vietnam and the USA. I developed an e-commerce app for Nguyen Kim that was downloaded over 4 million times.
Whilst at Viettel Group working as a Technical Director, I was approached by Duy Huynh, founder of MyConstant, to head up the team here and I gladly accepted.
As for MyConstant, we started as a small stablecoin project but within months, it was very clear we needed to be much more ambitious. We spotted a need for crypto holders to be able to use their assets without selling them.
We then decided to switch our focus to crypto-backed peer-to-peer lending. It was a neat solution where borrowers could unlock the value of the crypto assets, while holding onto them in the anticipation of their value going up. Investors also benefited from earning much higher interest rates than they ever would at a bank.
So, while we kind of stumbled into it - we were very well-placed to build on it. We already had a vastly experienced and skilled team who had the knowledge and talents to make it work. Three years on, and we're still evolving - coming up with new solutions for our customers all the time.

🔥Describe the process of launching or preparing to launch MyConstant.
ZC: At the time of our launch, we were aiming to be a stablecoin project and help to facilitate more efficient international transfers, particularly for those living in economically troubled countries. However, it became evident we could - and should - do so much more. Within months of our platform launch, we pivoted to peer-to-peer lending.
In the first month of this pivot, MyConstant matched over $1m in loans, which was clearly a strong indication we were headed in the right direction! We haven't looked back since, as we continue to develop our product offerings to help our customers achieve their financial goals.
I think the "secret" - if you can even call it that - is that we listen to our customers and constantly review the market. We've always responded quickly to market demands, while never moving away from our ethos - which is to provide usefulness and solutions. A good example of that is in the May 2022 crypto crash, we tweaked our interest rates, revamped our membership program, and communicated with our customers to ensure they can continue to meet their financial goals.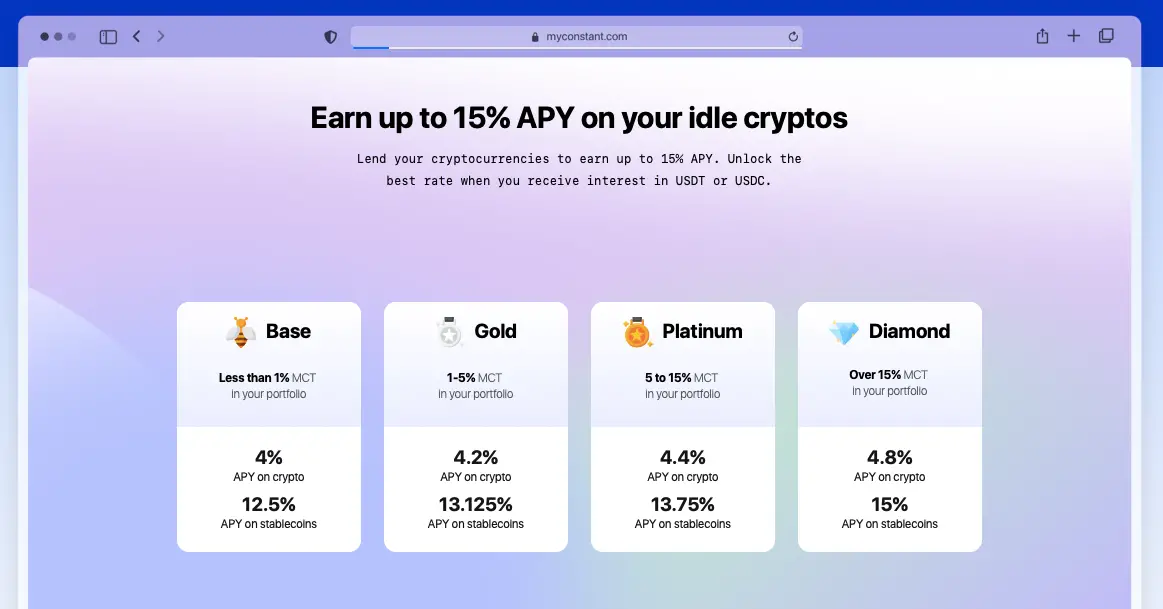 🔥Take us through your daily process of what it is that you do.
CZ: I don't think there's anything too unusual here! I wake up at about 6am, and do that thing many of us do now which is to check the phone. I tend to go to the gym before hitting the office at about 8:30am. From 9am until 10am - I'll have meetings with the team to catch up with what they're doing.
One thing I make sure of is to fully embrace the open office culture. I'm at my desk in the same room as everyone else and always make sure I'm approachable.
The rest of the day is varied - we never stand still at MyConstant. We've recently launched a new project - NFT Pawn - where you can use your NFTs to secure loans, which has attracted plenty of interest from investors. So apart from the mornings, no two days are the same!
🔥What has worked to attract and retain users or customers?
CZ: In terms of marketing, we've invested a lot into digital marketing - specifically into advertising, SEO and social media. We've got a very active community as well on our Live Chat and Discord channels. Our customer service team is always on hand 24/7 to handle any enquiries - and I do mean 24/7. Wherever you are around the world, there will be a customer service agent to handle your query.
From that, I think you'll get the idea that we take a holistic approach to marketing and engaging with customers. In this day and age, you can't just get away with focusing on a couple of channels any more - we need to do everything and do it well.
We also work very closely with industry partners to promote our products, provide special offers, and explain how you can benefit from MyConstant.
Youtube: Live AMA with My Constant!
At the core though, the number one way to retain customers is to deliver a good service. Our 24/7 customer service team is a key part of that, but ultimately, we focus on delivering what we promise. The stats show that our average customer makes 16 investments with us, which shows the strength of our retention rate.
🔥Let's say I have $10,000 split in USD, USDT, and Bitcoin and I want to earn some profit, what do I do, how does MyConstant help me?
CZ: That's a healthy amount! First of all, you can earn 12.5% APY on USDT, compounded every second - up to 15% APY with our membership program. Say if you have $5,000 in USDT and you choose to invest it with MyConstant, you would be looking at doubling that amount in 5 years without doing anything else. So that's a great start.
If you want to keep your USD, you can now earn up to 8% APR (up to 9.6% APR with membership). That busts the banks and will help your USD holdings retain its value during this period of high inflation.
We also offer 4% APY (up to 4.8% APY with membership) on BTC, which isn't as high as the other options but you will still be earning more as you wait for the bull run to take over!
Alternatively, you can use your crypto as collateral so you can liquidate your assets without having to sell them. You can then use that money to make further investments and support other projects.
Loans start at 0% APR for first-time users, and you can use any one of over 80 cryptocurrencies we support - including bitcoin. For regular users, you can expect to pay around 6% APR for your loans, but with membership that can come down to 3.6% APR.
Much more competitive than most banks.
🔥Do you accept customers from countries outside of the US?
CZ: We're headquartered in the US, with most of our customers based there. However, we do serve customers from all over the world. There are some restrictions - of course - even within the US, but if you have crypto - the chances are you can use our platform!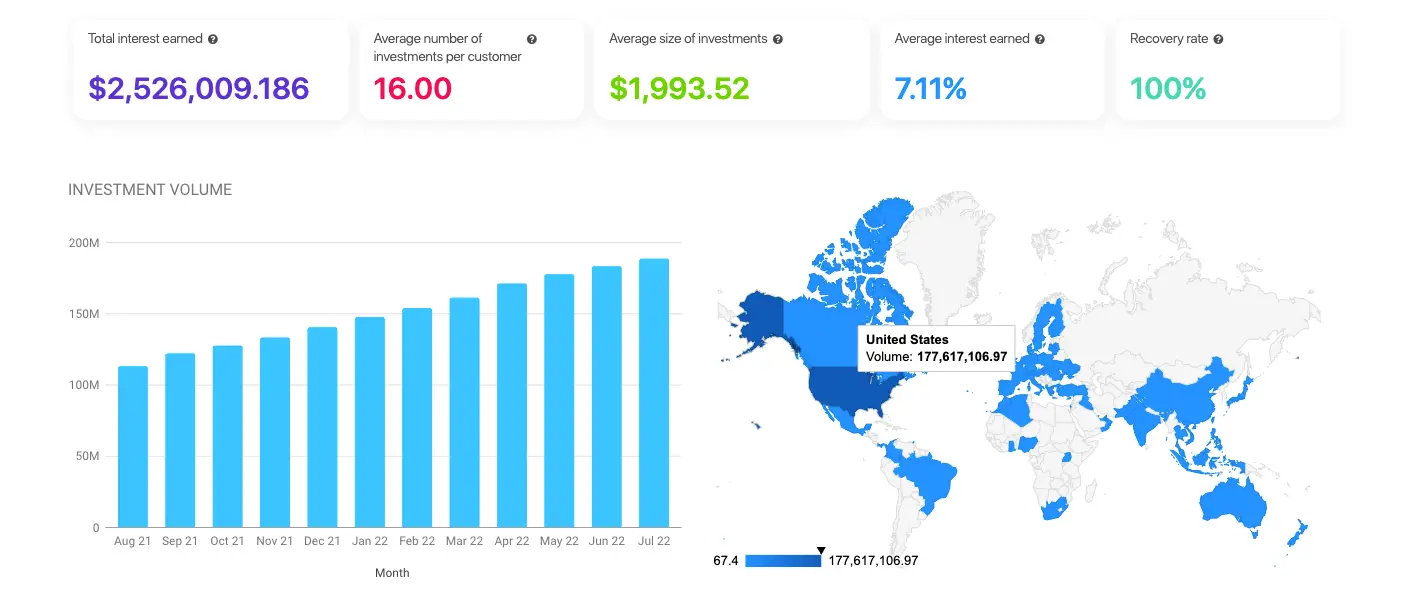 🔥How are you doing today, and what does the future look like? Let's talk numbers!
CZ: Obviously the crypto bear market has had an impact but our underlying performance remains very strong. We've supported over 200,000 customers over a 3 year period, investing nearly $190m into our platform.
We've also launched a few new exciting projects - including a new NFT lending platform and our own native token, MCT.
The MCT token is designed to be used within the MyConstant ecosystem. Holders are able to enjoy a host of benefits on our innovative membership program including:
Crypto Lend: Earn up to 15% APY.
Fixed-term investments: Earn up to 9.6% APR.
Lending Lottery: Earn up to 1.2% and up to 4 extra tickets for every $2,000 invested.
Crypto-backed loans: Pay from just 3.6% APR.
Crypto Swap: Up to 90% discount on swapping fees.
Launched in late May 2022, over a million MCT has already been staked on MyConstant. At this time of writing, it has a value of over $120,000 - with more in circulation.
All of this is being supported by our wonderful community of 20,000 active users on our app. We also have nearly 14,000 followers on Twitter, over 5,000 on Discord and 3,000 plus on Medium.
And here's the best bit - our customers have earned over $2.5m in interest since 2019.
🔥Through launching MyConstant, what is something you have learned that surprised you?
CZ: I think the biggest lesson has been to be ambitious and use that ambition to drive yourself and your business forward. At MyConstant, our growth has come from moments when we're trying things and launching new products. Even during this period of market uncertainty, we've found investors are still willing to support strong projects with a vision.
We can now say that we have an ecosystem for digital assets - and that has come from ambition with a willingness to try new things.
🔥Mistakes were made. What were they and what did you do?
CZ: Of course mistakes have been made! We've been in operation for 3 years and mistakes are going to happen. I think the key is to be proactive and deal with those mistakes right away.
For us there were two big mistakes we made. Firstly, we underestimated the potential of our platform and didn't invest enough in marketing or building up a user base. Secondly, we spent too much time and effort on features that didn't end up being used by many people. Lastly, we didn't focus enough on creating a great user experience – both in terms of the design and product using flow in terms of app and web navigation.
Fortunately, we've learned from these mistakes and have taken steps to correct them. We're now concentrating on growing our user base through aggressive marketing and improving the overall experience of using MyConstant. We focus on delivering a more personalized experience to users and have been much quicker to adapt to changes in the market. Along with focusing on growth and acquisition,we spend time making sure our existing users are happy. We listen to our users, address their concerns, and fix the problems they encounter. We're still not perfect, but we're committed to continuing to improve our product.
Our goal is to become the most reliable and sustainable platform even through the worst bear markets for anyone wanting to invest and borrow.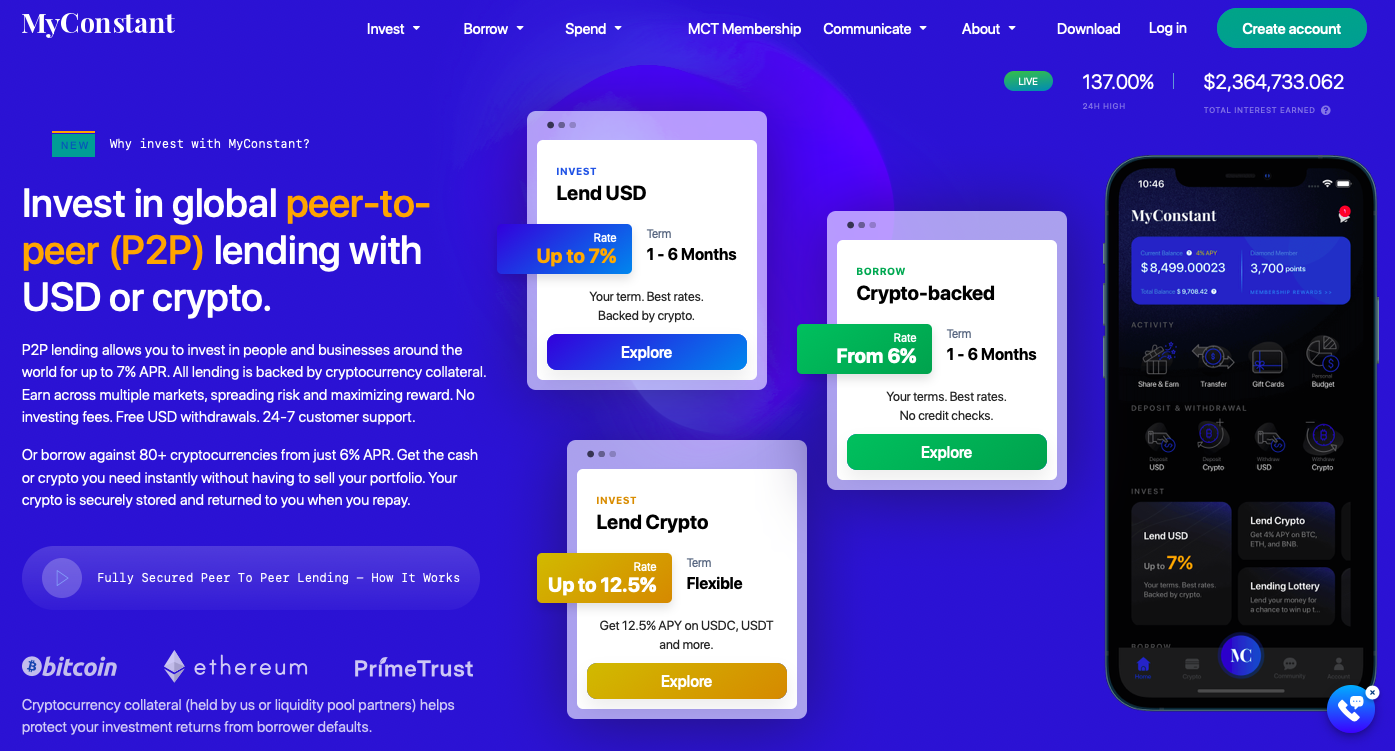 🔥What have been the most influential things in your life that affected your project? This can include books, podcasts, or people?
CZ: The biggest influences has come from our industry peers - I won't name them all because we'd be here all day! But obviously people like CZ at Binance, Vitalik at Ethereum - industry leaders who have led the way to show what is possible. I read as much as I can - "Cryptoassets" by Chris Burniske and Jack Tatar is one particularly useful book.
🔥Do you have any advice for other creators, entrepreneurs, or developers who want to get started or are just beginning?
CZ: I think the biggest advice is to go for it!
Now when I say that - I mean do it with your eyes open. As we've seen with some crypto projects flying into the wall, if you go in unprepared and maybe even blind, then it'll catch up with you eventually. The key is to be proactive. If you have an idea, do your research, talk to others, and make it happen.
And also, take your time. I worked for 11 years in a variety of roles before becoming CEO of a startup with a handful of employees. Now we have about 50 employees around the world, serving 200,000 customers and handling over $180m in investments. It took three years to get to this point as a company - it might feel a long time when you're on the journey, but looking back - it's gone like a flash!
🔥Where do you see the blockchain, cryptocurrency, and decentralization space going in the next 5 to 10 years?
CZ: This isn't going to be popular for the crypto purists - but regulation is coming. The key to the success of blockchain and crypto is mass adoption and slotting into global systems. The recent crypto winter isn't the first and won't be the last but I do expect the market to become more stable in the next decade.
That said, I have an optimistic view of the cryptocurrency space and there's some hugely exciting projects out there. I think it will be successful in ways that we cannot imagine at the moment - even within 10 years. I have no doubt there will be some crazy innovations that will transform our worlds and financial systems will be more open than ever before.
🔥Where can we go to learn more?
CZ: We've got a website and a great blog - which you can find here: www.myconstant.com
And don't forget to take advantage of our 0% APR loan offer for first time borrowers. For investors, you can start earning an inflation-busting 12.5% APY with your USDT or USDC today!
We're very active on social media:
App downloads: 80,000 downloads
Registered users: 200,000+
MCT Token Holders: 600+ addresses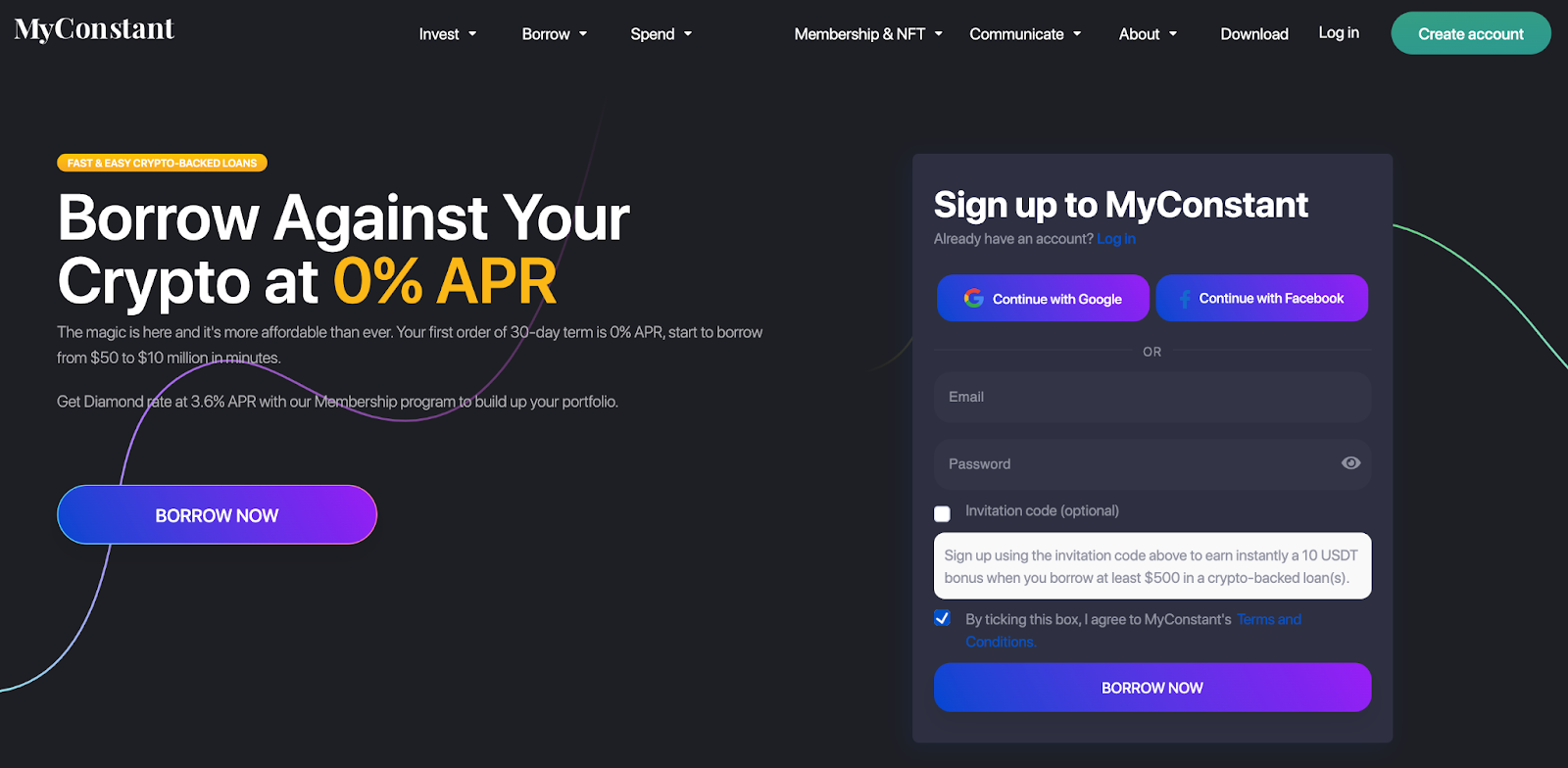 🔥Thank you, Zon!
Want to know how you can support Crypto Fireside?
Sign up below. It's free and easy 🔥